The Portuguese Collection is a set of three expressions from Tomatin. Each version starts with the same spirit, distilled 8 September 2006 and counts 8 years of maturation in classic ex-bourbon casks. In April 2015 this was transferred to three different types of casks that are typical for Portugal:
Madeira casks from Blandy's
Tawny Port casks from Symington's brands (Dow's, Warre's, Graham's…)
Moscatel de Setubal casks
After this lengthy finishing period they came out of the casks on the same day in May 2022. Interesting to have them head-to-head – the idea reminds me of the Tomatin Cuatro series which presented four different types of sherry casks.
Tomatin 15 yo 2006 – Madeira Casks (46%, OB 'The Portuguese Collection' 2022)
Nose: a bit of a musty / vegetal start, with some of the nutty, oxidative character of Madeira wines. Then some vanilla and milk chocolate, as well as hints of caramel. A fruity element comes out too, think apricots with a lightly charred edge, alongside citrus peels and plums.
Mouth: a fairly oily texture with good intensity, mostly the result of active wood, I guess. Some drying tannins are showing, as well as ginger and white pepper. Caramel sweetness and apple compote in the background. Then also hints of chocolate coated hazelnuts, with a salty edge. Subtle bitterness appears too.
Finish: medium length, with earthy / leafy spice and a bitter hint.
Not bad but I've had better examples of Madeira maturation. In fact I'm missing a bit of the classic markers and the plain wood is a tad loud. Available from The Whisky Exchange or cheaper from Master of Malt for instance.
Tomatin 15 yo 2006 – Moscatel Casks (46%, OB 'The Portuguese Collection' 2022)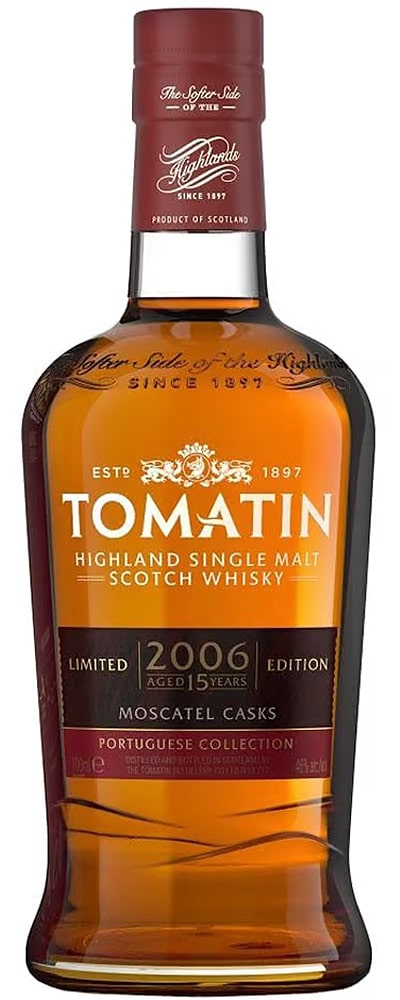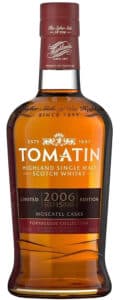 Nose: more expressive in the sense that the aromatic style of the Moscatel is easy to notice. Grape sweetness, hints of marmalade and gooseberry. Then hints of citrus, pastry with vanilla cream filling and red berries. A vinous sharpness too.
Mouth: starts on sweet berries and chocolate, but the mix gets funky when sour herbs appear. Ginger, nutmeg, mulled wine. Bitter orange peels and cranberries. Star anise. Increasingly bitter after that.
Finish: medium length, rather peppery and earthy.
Nicer on the nose, but overall still not very impressive. How come they both have this clearly bitter fingerprint? Available from The Whisky Exchange or Master of Malt for instance. Score: 83/100
Tomatin 15 yo 2006 – Port Casks (46%, OB 'The Portuguese Collection' 2022)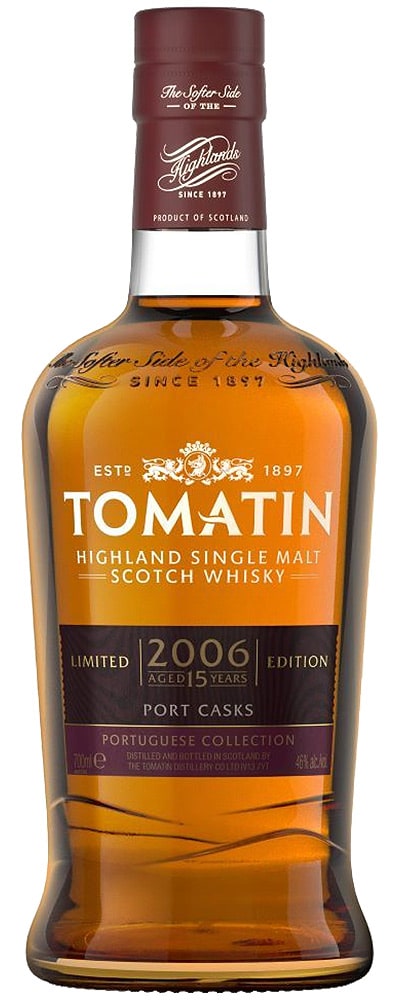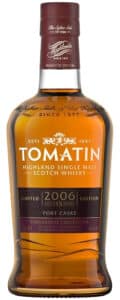 Nose: musty, even slightly sulphury. Also darker fruits, like blackberries and dark cherry. Then sticky caramel, hints of old leather, pepper and cinnamon. Milk chocolate and more earthy, musty notes. Light citrus on top.
Mouth: blood oranges, rhubarb jam and peach sweetness, behind caramel and toffee notes and moist wood. Big chocolate cake after a while, alongside black pepper and clove. Liquorice. Herbaceous notes in the end, but no disturbing bitterness this time.
Finish: medium length, leathery and spicy, with hints of gingerbread.
Port casks will never be my favourite for whisky finishing, and this does little to change my mind. It's not the worst of the series though. Sold out from most retailers but still available from the Tomatin website. Score: 82/100