Haven't heard of this single malt? Me neither. Yet it is a single malt and not a blend. From my information, this is probably distilled at Glenfarclas distillery, and the fact that Luc Timmermans owns several bottles, could be a confirmation.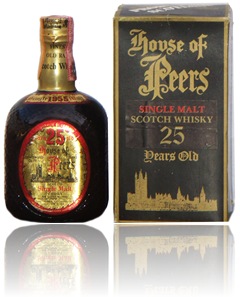 House of Peers 25y 1955 (40%, Douglas Agency Glasgow, 1980's)
Deep amber colour. Nose: holy macaroni, sherry! No doubt this oloroso or even Pedro Ximenez cask did its work properly: dried fruits (plums, raisins) all over, with some leather, chocolate, cocoa and a bit of eucalyptus as well. Some ash and smoke, and a few floral notes somewhere deep inside. Really excellent.
On the palate, the smoke grows bolder but the sherry is still winning hands down. You might even say this is less whisky than sherry (more plums, dried apricots, caramel, tobacco). In the aftertaste, it's mostly the wood and bitter chocolate that are present. The sherry notes slightly evolve to kirsch (Mon Chéri?) and even balsamic vinegar.
The last couple of years, there is a lot of interest for "dark sherry" whisky (especially in Germany). Both Adelphi and G&M have of range of these bottlings, e.g. Aultmore, Glenrothes, Longmorn, Glengoyne… But apparently, it was also popular some 30 years ago.
This is sherry influence of the boldest kind. I can imagine a lot of people won't find the whisky underneath. Not at all subtle, but without doubt different. Glenfarclas 105 is one of my favourite daily drams and this is probably its grandfather (without the cask strength and with more smoke of course). Very good.
Score: 91/100.
Update: House of Peers turns out to be a sub-brand of Douglas Laing aimed at the Asian market. Moreover, Jan Beckers (ambassador at Douglas Laing) told me it's definitely not Glenfarclas. Stewart Laing couldn't remember what malt it was either and unfortunately their archives don't go back that far. A mystery malt!