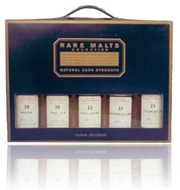 Do I really need to introduce the Rare Malts Selection?
It was launched by Diageo (named United Distillers at that time) in 1995 for Tax Free markets but later on, it became available through regular retail shops as well. The aim of the collection was to present rather uncommon single malts. All of the bottlings had to be of high quality but also had to represent a typical distillery style.
The Rare Malts were not single casks, but small batches with a yield between 2000 and 6000 bottles (occasionally up to 12.000). Releases may have occurred at different times in different markets, sometimes also with a different alcohol volume. It's difficult to say how many Rare Malts bottlings there are, but it should be somewhere between 100 and 125. Nowadays, most of them are true collector's items. Check out Ulf Buxrud's website for detailed information.
The Rare Malts series was discontinued in 2005. Over the next ten days, I'll review a bunch of Rare Malts: Banff, Mortlach, Glenury Royal, Brora…