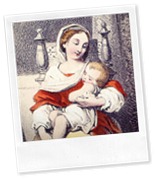 There's still uncertainty about Imperial. Like Glen Keith (owned by Chivas Brothers as well), the distillery is currently closed but there are rumours that it could be restarted in the near future. Both have produced some nice whisky, but Glen Keith is probably in a better state and could be reopened more easily. Time will tell.
This Imperial 1990 is part of the Romantique series by The Whisky Agency. Unique labels again. I'm expecting high quality based on the reputation of many Imperial 1990 casks bottled by Duncan Taylor.
Imperial 21 yo 1990 (52,7%, The Whisky Agency 'Romantique' 2011, ex-bourbon hogshead, 233 btl.)
Nose: sweet with juicy butter pears, pineapple candy and plenty of vanilla powder. Crème anglaise, some white chocolate as well. Marzipan and roasted almonds. Apples with cinnamon. Quite thick.

Mouth: big bodied with similar aromas. Sweet and slightly sticky fruits (orange marmalade, ripe pear) with pleasant spices (light pepper, cinnamon, ginger). Balanced oak. Generous dashes of honey. Apple pie.

Finish: medium long, still the same profile of fruit pie, honey and spices.
A thick and juicy Imperial with buttery vanilla and spices from the oak. Not much evolution but very enjoyable. Around € 105.
Score: 88/100