We've returned from the sixth edition of the Spirits in the Sky festival in Leuven. Not the greatest edition ever, I'd say, as there seemed to be fewer stunning whiskies than last years. The organisation and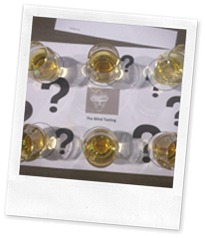 overall atmosphere are still exemplary though.
Blind score tasting
This was a tasting on invitation, before the actual programme began. Mario Grooteklaes invited us to try six whiskies and to assign them a score. Some of us were experienced scorers (bloggers, writers, (ex-)Malt Maniacs), others were simply experienced whisky tasters. Average scores are in bold.
Glenlivet 14yo 1995
(46%, Signatory UCF 2010, first fill sherry) [79]
Fettercairn 14yo 1997 (58,2%, cask #7753 for distillery visitors) [79]
Springbank 1996 (55.5%, #499 for Single Malt Academy of Dalecarlia) [83]
Glenmorangie Missouri Oak (55,7%, OB 2002) [86]
Redbreast 15yo (46%, 2006 release) [87]
Kilchoman single cask (sherry) [80]
The conclusion was twofold.
On the one hand, it was clear that there's sometimes an immense difference in appreciation between tasters. The last whisky for example was scored 40/100 but also 91/100. I think that's pretty logical: it was peat, peat and more peat, with the sherry as a potty support act. If you like peat, you'll give a high score. If you don't like peat or you like complexity, you'll give a low score. Bottom line: only trust yourself when it comes to scores. Quod erat demonstrandum. I'd rephrase: get to know a reviewer before you trust his scores.
On the other hand, for me at least, it was also clear that certain profiles are appreciated by a majority of people. Especially the Glenmorangie and the Redbreast had high average scores with very few outliers. So in a way you could also conclude that it's perfectly possible to get a general consensus in such a large group, even when the group uses totally different scales to score (I personally don't like too much peat either, but 40/100 is a supermarket rum in my scale).
Graham's Port tasting
As a dessert for the blind tasting, there was a Port tasting hosted by Graham's. We tried two white Ports, the Six Grapes, The Tawny, The Tawny 10yo, The Tawny 30yo and the two masterpieces of the event: the Graham's 1969 Single Harvest Tawny and the Graham's 1952 Tawny 'Queen Elizabeth II Diamond Jubilee', a 60 years old Port bottled by Berry Bros. & Rudd from the only six pipes in the warehouses of this vintage. It was served at the Jubilee Dinner earlier this year. These last two were cracking!
For a few moments many of us were thinking about ditching whisky and getting into Port wines, especially when you consider the relatively fair prices (the 1952 is £ 275 a bottle).
The Whisky Agency masterclass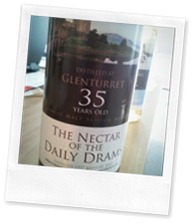 This was a concept we already saw last year. Six cask samples were selected by Carsten Ehrlich and we could select the next "Spirits in the Sky" bottling by The Whisky Agency. There was a Clynelish 1996, Aultmore 1982, Littlemill 1992, Caol Ila 1990, Glenturret 1977 and Laphroaig 1998.
While they were all perfectly fine whiskies, none of them reached the heights of last year's Glen Grant or Tomatin. The Glenturret 1977 was head and shoulders above the rest and won very convincingly. In the end though, when we were asked whether the Glenturret was good enough to be bottled as a "selected at Spirits in the Sky" release, the group was a little divided, especially because there was a Glenturret 1977 at the Daily Dram stand which most people found better quality.
In the end the general idea seemed to be that the expectations for this tasting were higher for a bottler like The Whisky Agency.
Other festival highlights
Other highlights of the festival for me, in no particular order:
Remember this is just an arbitrary list really. In a few hours of time, it's difficult to have an in-depth look at everything.
By the way, I heard The Laphroaig Experience on Saturday was quite legendary (with the Laphroaig 1964 BBR as one of the highlights). With a different choice of masterclasses this event could have been even better for me, I guess.
ps/ No Diageo stand this year, although it was announced on the website. Is there a link with the absence of Special Releases in Belgian stores this year?