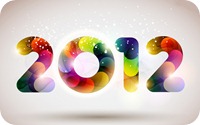 I wish everyone a happy 2012 and plenty of great drams!
Last year was terrific for this blog. The number of visitors went up from around 23.000 to 38.000 a month, that's a 65% increase. Many thanks to all you loyal visitors.
Ever since 2009, Ardbeg and Laphroaig are the most visited brands. GlenDronach is now in third place (this used to be Port Ellen and Highland Park in previous years). Also noticeable is the increased interest in Japanese whisky (up by 300%).
When we look at individual whiskies, the most popular release was Ardbeg Alligator by far. Its review was the single most viewed page after the homepage. Although it has gone down, Laphroaig Triple Wood is still in second place. The Diageo special releases are taking third place.
Looking at my personal list of drams, I had the impression 2011 was one of the best whisky years I've experienced. We witnessed the birth and rise of new bottlers, the general tempo was very high and the average quality even higher. Unfortunately prices reached crazy levels (now also true for independent bottlers while it used to be mainly a problem of official releases). I wonder how this will evolve in the near future. Is there still enough high quality stuff available? Will consumers endure those prices?
The evolution in the market has two consequences that aren't always positive: 1. you need very deep pockets to buy a decent selection of interesting bottlings and 2. most of the legendary things are sold out before they even reach the shelves – and on top of this the PE11 / eBay Germany scandal which I'm not going to repeat. I have the feeling more and more enthusiasts are being fed up with the whole market situation which is contradictory to the expansion and the high quality of course.
Enough already with the rambling, let's continue the tradition to focus on a few highlights of last year. These would be my shortlists (in no particular order):
Regardless of price:
Brora 32 years (54,7%, 10th annual release)
Longmorn 35 yo 1976 (53,6%, TWA Perfect Dram)

Price-conscious selection (below € 150):
Clynelish 28 yo 1982 (53,7%, Malts of Scotland)
Isle of Jura 23 yo 1988 (52,9%, TWA Romantique)
Bowmore 18 yo 1993 (61,6%, TWE Masterpieces)
GlenDronach 19 yo 1992 (59,2%, cask #161)

And of course the range of outstanding Laphroaig 1990/1991 releases from different German bottlers like Malts of Scotland, Whisky-Doris, The Whisky Agency and Liquid Sun.

Most interesting bottlers (no changes here):
The Whisky Agency
Malts of Scotland