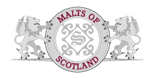 The last time this blog featured the independent bottler Malts of Scotland was exactly one year ago. Somehow they weren't brought to my attention, but I'm happy to have tasted a couple of new releases again.
Images is a relatively new series. The distilleries aren't mentioned on the label because most casks were intended for the blending industry. However each bottle bears a characteristic image of the production region and this is sometimes enough to narrow down the possibilities.
Ayrshire doesn't have a lot of active distilleries and the link with Ailsa Bay was easily made. It's a recent distillery, owned by William Grant, operational since September 2007 and housed within the Girvan site. The distillery produces unpeated, mildly peated and heavily peated whisky, all used for blending. This Images of Ayrshire may well be the first single malt release from Ailsa Bay!
Images releases are usually bottled at 53,2% but this time it's kept at cask strength, a whopping 68,3%. It is said to be just 3 years old.
Images of Ayrshire 'Dalrymple Bridge' 3 yo (68,3%, Malts of Scotland 2014, sherry hogshead, 328 btl.)
Nose: aromatic, young, raisiny sherry. Pretty fierce at first, even with some water, but nice. Raisins, candied apple, oranges, raspberry and a few winey / rummy undertones. Fresh red plums. Pecan nuts and hints of tobacco in the background.

Mouth: sweet and highly oak-driven. Juicy fruits but also loads of spices (pepper, vanilla, clove). Kirsch and marinated raisins. Underneath seems to be a heavy, slightly meaty spirit. Mexican chocolate and toffee. Dry tannins as well.

Finish: long, with chocolate, raisins and a spicy heat.
It's easy to see similarities with young Glenfarclas, sherried Arran or Glenmorangie Sonnalta.  In fact, it reminds me of any clean spirit in a great sherry cask, if not for the added weight on the palate. Relatively low complexity but an intense, interesting dram. Definitely ahead of its age. Around € 80.
Score: 86/100