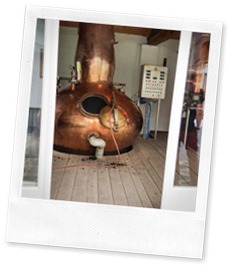 During the past weekend, the Belgian Molenberg distillery which produces the Gouden Carolus single malt had its first open doors event. You could try the Gouden Carolus beers, there were guided tours, presentations of local food products, music performances and the official release of a new product, the Gouden Carolus Pure Taste Bourbon 36. Actually Gouden Carolus is not mentioned on the label this time, they only mention Stokerij De Molenberg.
While the original Gouden Carolus single malt is matured in ex-bourbon casks for 30 months and then transferred to re-coopered (charred) casks for 6 months, this limited edition only had a first-fill American oak maturation for 36 months. It is the first release in a series called Pure Taste. It is only available at the visitor centre.
Gouden Carolus 'Pure Taste Bourbon 36' (50%, OB 2015, bourbon casks)
Nose: clean, simple and young, but definitely enjoyable. A lot of vanilla of course, with hints of marshmallows and pear drops. Light banana and tropical fruit bubble gum. A soft peppery kick as well. Pretty much what we would expect from a fine 3 year-old made by a Scottish distillery.

Mouth: sweet and fruity (peach, apple), with the same vanilla. After that it gets more peppery and the oaky notes start to dominate the spirit. Ginger, plain oak, nutmeg.

Finish: medium long, drying with plenty of vanilla.
On the nose this one is significantly more open and aromatic than the general release. In the mouth it's oakier and less refined. Still not a must-have but certainly better (more classic) than many other European whiskies. It costs € 20 for a 20 cl bottle.
Score: 83/100