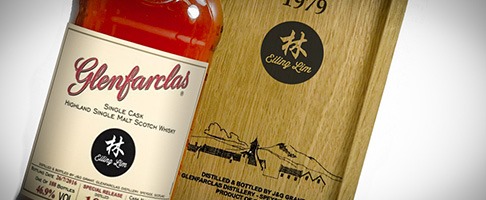 This is an upcoming release from Eiling Lim, an official bottling of Glenfarclas, from a cask that she had been following for quite a while since she discovered it in a warehouse tasting.
There aren't that many 100% bourbon Glenfarclas around, but it seems 1979 has quite a few of them. Usually these "plain oak" casks are hogsheads rebuilt from staves that once formed a bourbon barrel. We're expecting a burst of tropical fruits.
Glenfarclas 37 yo 1979
(46,9%, OB for Eiling Lim 2016, plain oak cask #8818, 188 btl.)
Nose: very fruity indeed, although rather more on white fruits than on tropical fruits. Tangerines, apricots, whitecurrant. Plenty of vanilla, plenty of oak as well, in a nice polished way. Lemon wax. After a while it does go towards fresh pineapples with a hint of coconut. Maybe just a hint of patchouli. In the background there are very subtle herbs, mint and a slight leathery edge.

Mouth: a bit lightweight but nicely oily, and it shows lots of fresh tangerines, pineapples and pears. Not too much vanilla, instead some ginger and green cardamom. Hints of almonds and buttery toffee too.

Finish: medium long, with the mentholated notes, coconut and varnished oak staying strong.
This is a rather delicate example of bourbon matured Glenfarclas, full of elegant fruity notes, including some tropical hints. Very balanced oaky notes and no astringency whatsoever. Really good. Around € 420, available soon.
Score: 91/100