Glenfiddich The Original is a new limited edition based on Hamish Robertson's 1963 Glenfiddich Straight Malt release, considered to be the world's first single malt. Of course whisky had already been bottled as a single malt before, but it was never marketed as such. Back then straight malt was used to set it apart from blended whisky. Later this became pure malt and now everyone is limited to single malt.
When the Glenfiddich Straight Malt was released in 1963, it was reportedly made from a base of 8yo whisky, vatted together with some 12yo and 13yo casks. Although this made it an 8 year-old, there was no age statement on the label at first.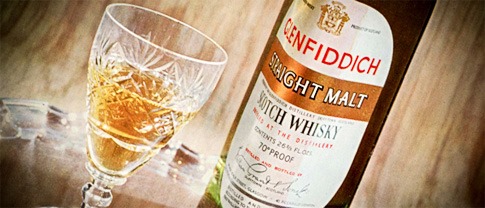 So master blender Brian Kinsman tried to recreate this early 1960s single malt in Glenfiddich The Original with current-day casks that are comparable in age. The project reminds me of the recreation of the Shackleton whisky or the Stand Fast blend (also from William Grant's who own Glenfiddich).
It's limited but in this case it surely means tens of thousands. Also, the label says "(inspired by) 1963 straight malt" quite prominently, but I though any mentions of vintages other than the distillation year were forbidden?
Glenfiddich The Original
(40%, OB 2015)
Nose: light, with lots of biscuity notes and nuts. Green apple and green banana up front, as well as pear and roasted malt. Floral grassy touches. Lemon and vanilla. After a while also light toffee.

Mouth: smooth, showing a big sugary sweetness with vanilla and cereal cookies. Lots of malty notes. Gentle citrus, almonds and soft pepper.

Finish: not too long, with sweet grassy notes and slightly drier oak.
A fairly harmless Glenfiddich, very smooth and gentle but don't expect major complexity or something more exciting than the standard Glenfiddich 12 Year Old. I don't doubt that it's true to the profile of the 1963 whisky, but why all this effort to recreate a whisky that's only 'okay' by today's standards (which are much higher than back then)? Around € 100.
Score: 76/100