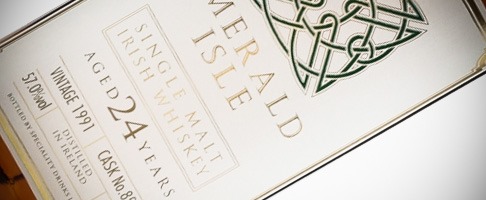 Emerald Isle is a new series from Speciality Drinks. It includes only Irish whiskeys, three until now: two 24yo 1991s and one 26yo 1989.
We're now trying the Emerald Isle 1991 cask #8583, a single malt from an undisclosed (Northern?) Irish distillery (based on other indie releases, we're pretty sure where it comes from). It is lightly peated and from the colour we're expecting some sherry influence.
Emerald Isle 24 yo 1991 (57%, Speciality Drinks 2016, cask #8583)
Nose: reminds us of the Maria label – enough said. Silky sherry influence, with red berries and a hint of vanilla / ripe banana that comes close to an American bourbon. Raisins and mint. Light chocolate. The exotic fruits of other releases are not very clear in this case. There's some herbal honey, and an earthy / tobacco layer underneath but I wouldn't identify it as peaty so far.

Mouth: boy, that's good. The sherry notes are still big (dried apricots, fig syrup, raisins) but the tropical fruits are back (pink grapefruit, passion fruits, tangerines), on the same level. Some rose pepper, than also big, big mentholated notes and indeed a hint of peat. Returns towards dry cocoa notes and fresh fruits.

Finish: long, spicy and fruity, with light smoke and chocolate.
I thought the Maria label was a one-off release but now I'm happy to have found a sibling. Similar tropical fruits with a great sherry layer and subtle peat. Wonderful. Around € 210 from The Whisky Exchange – I couldn't resist grabbing a bottle. It used to be available until recently…
Score: 93/100