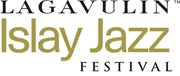 This Lagavulin was bottled for the Jazz Festival 2015, but it was delivered too late for the festival and still on sale at the distillery when Feis Ile 2016 started, which is why it suddenly gained some renewed attention.
This Lagavulin was matured in refill American oak as well as European oak Bodega casks. It comes without age statement or vintage, but there have been rumours about a vatting of 12yo ex-bourbon and 18yo sherry casks.
The term bodega cask is still not clear to me. It suggests the fact that the cask was used in an actual sherry bodega (rather than being specifically seasoned for the whisky industry), but apparently that's not what Diageo seems to understand. In bodegas they only use American oak anyway. Does anyone have more information on this? Is it just a particular size of butt?
Lagavulin Jazz Festival 2015
(55,4%, OB 2015, 3500 btl.)
Nose: a nicely fatty nose, punchy like the 12 Year Old but slightly rounder, more honeyed and toffeed. Lime juice. Leather. Some seaweed, oysters and iodine but less smoke than the regular 16yo. Nice, it's raw but refined at the same time.

Mouth: same feeling of punchy peat and crystal-clean lemons, but also toffee sweetness and vanilla cream to round off the edges. Great balance. Berries in the background with dried fruits. Sharper, kippery hints as well. Leathery notes, a spicy oakiness and some malty mocha towards the end.

Finish: long, tarry but also elegant and a bit more smoky now.
This Lagavulin unites the bourbon character with the sweeter sherry profile. The 12yo is at the base of this, but this is better – well done. Around € 130 at the distillery, now much more in auctions.
Score: 91/100