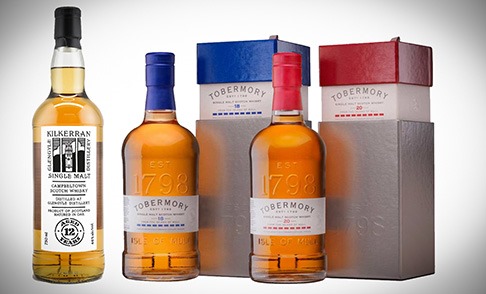 A couple of days ago we saw the announcement of two new Tobermory expressions which are the start of a collection of six whiskies, released over the coming two years. Tobermory 18 Year Old (46,3%, blue) was only matured in ex-bourbon casks, whereas Tobermory 20 Year Old (46,3%, red) was finished in sherry casks.
Apparently each bottle contains a small booklet with perforated, numbered tabs. If you collect all six releases and send the strips to the distillery, you have a chance of winning a bottle of the Tobermory 42 Year Old.
Also new: an upcoming Kilkerran 12 Year Old, the oldest expression from the Glengyle distillery so far. Actually it's also their first proper release and would mean they end their WIP series (Work in Progress)? Available 12th of August.