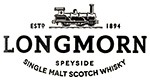 A few weeks ago, Longmorn launched The Distiller's Choice, a NAS expression which replaces the old Longmorn 16 Year Old. This new release is a triple cask matured single malt (hogsheads, Oloroso sherry casks and ex-bourbon barrels).
The 16yo had a lot of fans and they will probably not be happy with the drop in alcohol from 48% to 40%, the lack of an age statement (I assume this is now under 10 years old) and a price level that's almost the same. Also the name is slightly paradoxical, suggesting some kind of special selection or something premium in any case.
Like the 16yo, the whisky is presented in a broad-shouldered, transparent bottle. The label reminds us of a train ticket and includes a steam train to reflect the distillery founder John Duff's links to the railway, being one of the first to build a train station next to the distillery.
Longmorn 'The Distiller's Choice'
(40%, OB 2016)
Nose: fairly sweet and rounded. A lot of candy apples, berries and toffee. Fresh pear. Plum eau-de-vie and golden raisins. Malty and fruity, with a nice balance and subtle spices like ginger.

Mouth: sweet, very smooth, not to say underpowered. Quite candied again, with hints of caramel and creamy malt. Milk chocolate. In the middle you get pepper and a surprisingly tannic, sour woody note, a bit rough now but saved by the sweetness and the low punch. Then back to sweet oranges.

Finish: same grainy, peppery and grassy touches alongside the toffee sweetness.
The Distiller's Choice's profile is reasonably close to the old 16 Years, but it doesn't have the same finesse. I could certainly have lived with the NAS part but it misses some punch to justify the price. Around € 65.
Score: 80/100