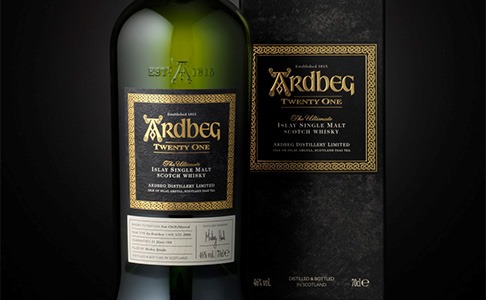 A new TTB approval revealed the label of an upcoming Ardbeg 21 Year Old, a 1994 vintage matured in 200-liter ex-bourbon casks (typical bourbon barrels). It will be bottled at 46% alc./vol. as a Limited Edition Committee Reserve.
The back label says:
Ardbeg Twenty One. A rare glimpse into Ardbeg's precarious past. A shining example of its unwavering quality. This momentous bottling contains whisky distilled during some of the most precarious days of Ardbeg's past, when only a handful of casks were set aside. Sumptuous and soothing, melding pepper, rye and Ardbeg's famous peaty smoke, this is a golden dram born from adversity, determination and dedication.
We have seen very little releases from the 1994-1995 period so far. Ardbeg's production was halted in 1981, resumed in 1989 by Hiram Walker but continued at a low level until late 1996. It was reopened by its current owners in June 1997. Could be interesting.
Update: Ardbeg Twenty One is priced at £ 310 / € 375 and goes on sale to committee members on 21st September 2016. Pretty reasonable pricing if you ask me.