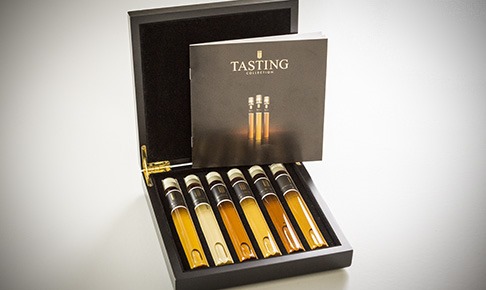 There are several whisky subscription formulas on the market. The idea is that you regularly get a set of whisky samples with a short introduction and often the possibility to buy a whole bottle afterwards.
Tasting Collection is a Dutch subscription service started in 2014. They offer whisky subscriptions but also fixed sets of other drinks (gin, cognac, vodka, rum, olive oil, tea…). Their monthly whisky subscription consists of six 25ml tubes and is always curated by a whisky expert who writes a small introduction to each whisky in a small booklet. I think this is quite unique and it makes their concept less prone to commercial interference: the experts are free to choose.
I've had the pleasure to compose the November 2016 edition! Within a certain budget I selected six of my favourite whiskies, which I think are all crackers within their category:
Tasting Collection subscriptions cost € 35 / month or € 37,50 if you want the 3-monthly service. You can sign up here.
---
Giveaway time:
5 sets of whisky samples!
Want to hear the best news? I have five tasting sets to give away!
If you fancy an extra Christmas present, be sure to enter the giveaway. Simply fill in this Google form before 10 Dec 2016. After my 4 year-old daughter has thoroughly examined the participants, she will pick five lucky names. Good luck!