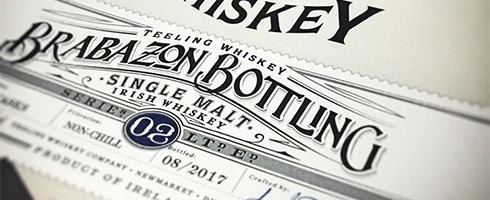 This is the second bottling in the Brabazon series from Teeling Whiskey. It highlights the influence of fortified wines on Irish whiskey and this time maturation is done in Port casks.
Teeling gave us the 'liquid profile' for this whiskey and we learn that it contains spirits between 8 and 16 years old. Some were finished in tawny port, some were fully matured in white port (European oak) or ruby port.
Teeling Brabazon 02 (49,5%, OB 2017, Port casks, 12.500 btl.)
Nose: syrupy sweetness at first. Like a prune tartlet or strawberry cookies. Raisins, fresh figs and vanilla. Forest fruits jam. Hints of chocolate cake and honey. Spices as well, which provide some balance. The Port doesn't overtake the malty core, which is good. After some time there are whiffs of pineapple and pink grapefruit.

Mouth: sweet and spicy again. Poached pears, berries, vanilla syrup, brown sugar and light mocha. Strawberry compote. Toffee. Also hints of toasted malt and oak spices (nutmeg, clove).

Finish: sweet and dry notes side-by-side, with spicy oak, some tannins and a hint of salt.
Contrary to my general preferences, I like this one better than the Brabazon sherry #01. Both share a generous amount of European oak spices, making this achieve a better balance than the majority of Port matured whiskeys: it's not all jammy sweetness. It has just arrived in stores.