The Brabazon family presided over the Liberties area of Dublin City from the 16th to 19th century. As Walter Teeling set up the original Teeling distillery in this industrial suburb in 1782, they want to pay tribute to these glorious days with a new Teeling Brabazon series.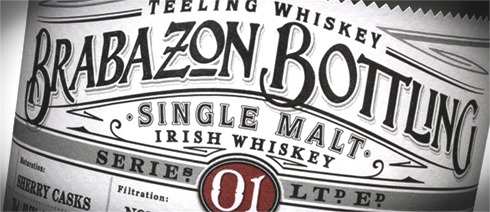 The series focuses on the distinct role that fortified wines can have on the taste of Irish whiskey. The first release was composed from different sizes and styles of ex-sherry casks.
This is the entire recipe:
30% of 2008 whiskey fully matured in ex-sherry butts
30% of 2007 whiskey fully matured in ex-sherry butts
30% of 2005 whiskey fully matured in ex-sherry butts
5% of 2002 whiskey finished in PX / Oloroso barrels
5% of 2001 whiskey fully matured in sherry hogsheads
All releases will be bottled at 49.5% ABV and will be available in most of Europe, Russia, Australia and select Asian markets.
Teeling Brabazon bottling #01 (49,5%, OB 2017, sherry casks, 12.500 btl.)
Pale colour. Nose: certainly not a sherry bomb, the focus seems to be more on the European oak characteristics (spices, nuts) rather than on raisins, figs and all that. I get some hazelnut, walnut and toffee. Marmalade. Some leafy touches and whiffs of chocolate, but all quite gentle. Coffee. Gets fruitier after a while, with nice apricots and plums.

Mouth: very sweet and malty, lots of yellow berry flavours, pineapple and toffee now. Roasted nuts, a sulphurous touch and leather in the background. Dried orange peel. Hints of liquorice and wood spices (ginger, clove). Still a hint of (dark) chocolate.

Finish: medium, spicy with more lingering oak and heavily infused tea.
Quite good whiskey but certainly not the best Teeling, and the story made me expect a bigger dose of (fruity) sherry. In my opinion this is marked more by the type of oak (European oak, almost never used to mature sherry wines) and sweetness than by the specific type of wine itself. Around € 70-80. Update: there's now Teeling Brabazon 02 – Port casks