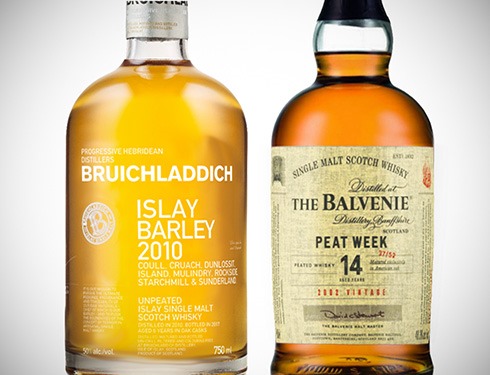 Bruichladdich Islay Barley 2010 is the successor of the 2009 vintage that came out last year. The barley for this edition was harvested at eight Islay farms (Coull, Cruach, Dunlossit, Island, Mulindry, Rockside, Strachmill and Sunderland). Bottled at 50% after 6 years in cask.
The Balvenie Peat Week 2002 is a 14 years old peated Balvenie matured in American oak and bottled at 48,3%. The distillery had some experiments with peated casks in the past (casks that previously held peated Balvenie that was re-racked but never bottled as far as I know) but this seems to be the first Balvenie directly made from peated barley. For one week each year, the distillery uses peated barley to distill their whisky.
Update: read my Balvenie Peat Week 14 Years review and tasting notes.