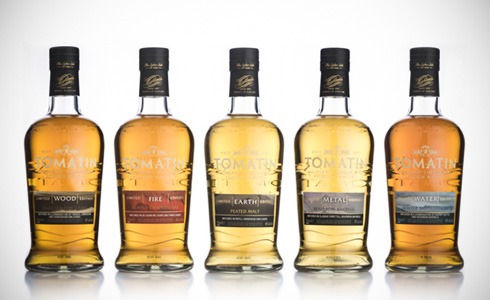 Tomatin unveiled a new limited edition: Five Virtues. It draws inspiration from the nature's elements: the expressions are named Wood, Fire, Earth, Metal and Water, and they come in a packaging adorned with contemporary Scottish art created by Eva Ullrich.
Here are further details:
Tomatin Wood is matured in French, American and Hungarian (!) oak casks
Tomatin Fire is matured in heavily charred oak
Tomatin Earth is matured in ex-peated casks
Tomatin Metal is inspired by the distillery's copper stills, not sure how that relates to the actual spirit
Tomatin Water is also a bit vague, it refers to the distillery's water source Alt-na-Frith
Wood and Fire are available now for around € 60. The other three will be released later this year. It is a limited run of 6000 bottles each.