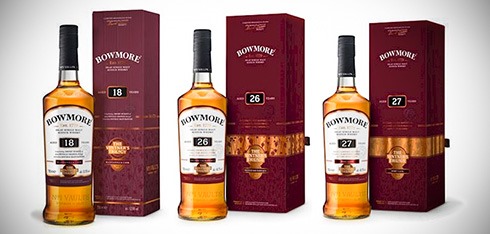 This is one of a trio of Bowmore releases that celebrate the influence of wine finishes. Bowmore 18 Year Old Manzanilla Cask has been aged in ex-bourbon barrels for 13 years before being finished in ex-Manzanilla sherry casks for a further five years. There's also a 26 Years wine finish and 27 Years Port finished version.
Bowmore 18 yo 'Manzanilla Cask'
(52,5%, OB 'Vintner's Trilogy' 2017)
Nose: berry sweetness and caramelized red apples. Candied orange peel. Blood oranges. Vanilla. Then some honey glazed roasted ham and embering smoke, as well as some mossy notes. Rock candy sugar. Nutmeg too. A lot of different aromas but it works nicely and is quite rounded.

Mouth: quite sweet at first, with medium smoke. Pepper and ginger. Blackberries, smoked almonds. Great mango notes in the middle. Herbal, very light salty notes toward the end.

Finish: medium long, with hints of milk chocolate.
Is this the best example of a Manzanilla finish? Not at all, I find little of the bone-dry, mineral and savoury character here. This is sweet and winey in a dessert wine style, the exact opposite of Manzanilla. However as a whisky on its own, I think this is rather excellent. Sweet and smoky, fairly complex and very nicely balanced: recommended. Good price too, cheapest I've seen is Master of Malt.
Score: 89/100