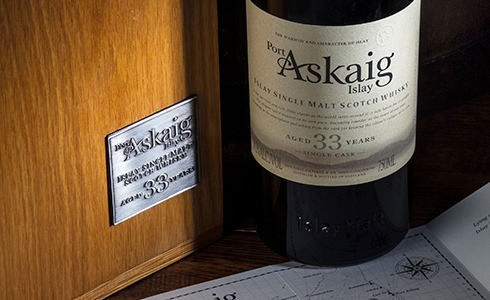 It's not always the case, but I assume this Port Askaig 33 Year Old was distilled at Caol Ila, most likely in 1984 (although we can't be sure).
It is bottled from a single cask, selected by the US importer Impex Beverages. The oldest from this distillery so far, if I'm not mistaken (the 45 Year Old is rumoured to be Bunnahabhain).
Port Askaig 33 yo (50,3%, Elixir Distillers for Impex Beverages 2018, single cask, 115 btl.)
Nose: sets off elegantly, on salty notes, floral honey, ginger, smooth heathery smoke and a little iodine. Nice fruity tones too: quinces, pears, hints of slightly sour greengages and apricots. Some lightly tropical too (passion fruits and mango, as in Sorachi Ace). Tiny hints of vanilla, ink and paraffin. Inviting, layered, rather perfect.

Mouth: oily but more powerful now, with the same fruity undertones of melons, apricot and a touch of maracuja. Medicinal notes, black pepper, lemon liqueur. Marzipan. Brine and a touch of diesel oil. Some floral notes and soft menthol.

Finish: medium to long, fresh with smoked almonds, grapefruits and the lightest smoke.
The proper old Caol Ila profile, showing gentle smoke and coastal notes, and heading towards tropical fruits. Hard to beat. Around $ 870 (€ 770), only available in the US.
Score: 92/100