At the end of 2017 Glengoyne renewed its travel retail range. It was called 'Spirit of Oak' and included this Glengoyne Balbaina as well as a Cuartillo, PX and 28 year-old expression. All are matured in sherry casks, in the case of Balbaina European oak Oloroso casks.
The names Balbaina and Cuartillo refer to pagos or crus in the sherry region: historic vineyard zones with specific terroir. Balbaina (closer to the sea) is specifically known for grapes typically excellent for the production of delicate Fino or Manzanilla, while Cuartillo is more inland and linked to the rougher Oloroso.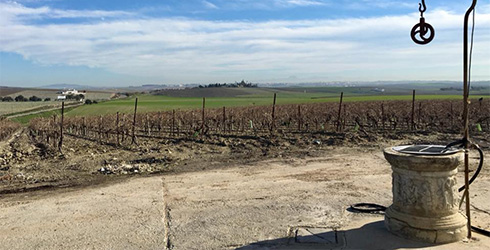 In the past few years there is a renewed interest in terroir in the sherry world, but the fact that Glengoyne chooses these names seems pretty random for a series that is supposed to be based on oak influence. Don't distilleries just fill all sorts of casks and try to come up with a good angle and a curious name for a series afterwards?
Glengoyne Balbaina
(43%, OB 2018, travel retail)
Nose: very malty, with light hints of dough and cake. Raisins, orange peel, honey and maple syrup. Soft hints of clove and milk chocolate as well. Nothing special but I like it.

Mouth: classic toffee, sweet oranges and honey on a grainy base. Bread and biscuits. Vanilla. Hints of figs and cinnamon pastry. Slightly more oak spice than the nose suggested.

Finish: medium, with sweet spices, honey and caramel.
A malty dram, with a round sweetness and moderate sherry influence indeed. Solid whisky: travel retail options are not always flawless but this is a decent choice. Also available from Master of Malt in case you're not travelling.
Score: 83/100