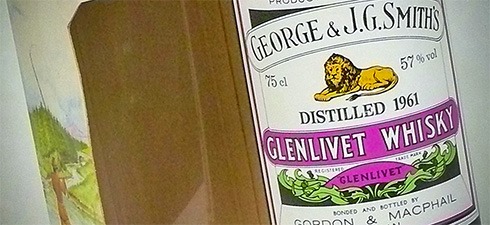 This is post number 3000 on WhiskyNotes. I'm also doing news posts but on the other hand head-to-head reviews as well, so I guess it's actually the 'approximately 3000th' whisky I'm reviewing.
So, a Glenlivet 1961 bottled 30 years ago, one of these 'licensed bottlings' by Gordon & MacPhail. The Italian tax label indicated it has to be bottled before 1991, most sources claim it is late 1980s. One of the well-known sherry bombs from yesteryear.
Glenlivet 1961 (57%, Gordon & MacPhail late 1980s, George & J.G. Smith's, Sestante import, dark sherry)
Nose: big, old, fat sherry. The same aromatic wideness as an Oloroso sherry (you know Oloroso is Spanish for aromatic, right?). Juicy raspberry, nuts, rum & raisins, blackberry and a lot of chocolate. Prunes on syrup. Subtle notes of coal smoke and toasted wood in the background. Tobacco leaves. Ground coffee. Old attic. Even wider with a drop of water.

Mouth: bold and intense. It has a juicy sherry side (red berries, plum jam, blackcurrants, sweet raisins) but also the drier notes (herbal liqueurs, black tea, musty wood). Dark chocolate with salt flakes. Really great, especially with the added smoky and tarry notes. Liquorice, hints of camphor.

Finish: very long, smoky and herbal, with dark cocoa and still lots of prunes and blackberries.
Excellent dark sherry bottling: you just don't get this smoky / dusty / oily side in whisky any more. Faultless and such intensity! Long gone – a true collector's item.
Score: 93/100