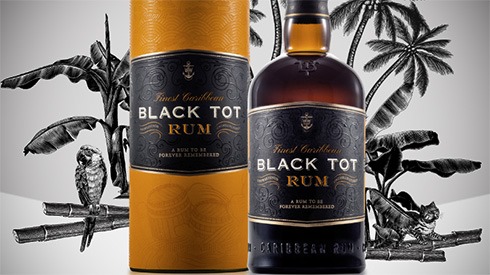 Black Tot is a Caribbean blended rum. It is a modern interpretation of British Naval rum, an old style of rum known for its heavy, dark flavours. This version is said to be lighter, more elegant and more importantly, unsweetened.
Black Tot is a blend of rums from Barbados (elegant and fruity), Guyana (full-bodied) and Jamaica (heavier and funkier).
The brand started in 2010 when Speciality Drinks (now Elixir Distillers) bottled some of the last real navy stocks. In the past few years they developed it into a whole range of rums.
Black Tot rum
(46,2%, OB +/- 2019)
Nose: especially the Jamaican component stands out. You know, linoleum, olive brine, banana skins and light herbal elements (parsley), nice. Underneath there's a fruity layer with pineapples and mangoes. Molasses, cinnamon and subtle leathery notes.

Mouth: oily and heavier than the nose suggested, balancing a grassy and a sweeter side. Roasted coffee, cinnamon cake, hints of ginger and even a mustardy sharpness. Less fruity notes now, maybe some herbal honey.

Finish: long, with a return of grilled pineapple, pepper and liquorice.
A multi-layered rum and a nice malternative for those who prefer a drier style. Perfectly drinkable on its own but I can imagine it's also great for sophisticated cocktails. Recommended. Available from The Whisky Exchange for instance.