Peat & Sherry is the sherried version of the peated blended malt from Elixir Distillers. Peat Cubed Root is an even more complex version which involves three kinds of spirits.
We'll have three versions today, each exclusive to a local retailer. We start with a Kensington Wine Market exclusive, the darkest sherry bomb. No info on the distilleries involved, but it was blended at birth and matured for 9 years in a sherry hogshead.
Peat & Sherry 9 yo (55,4%, Elixir Distillers for Kensington Wine Market 2020, single sherry hogshead, 475 btl.)
Nose: a rich and clean combination of sherry and peat. Sooty charcoal, Lapsang Souchong and some motor fumes. A little Vicks Vaporub and walnuts. Warm sawdust. Antiseptics and mulchy notes. Cinnamon. There's a generous dark sweetness in the background, a mix of chocolate, sticky toffee pudding and blackberries.
Mouth: pretty great. Tarry and sooty notes, lacquered meat on the barbecue, roasted chestnuts and dark chocolate again. Just a hint of (young) mezcal and leather. Herbal liqueur, honey and a peppery warmth. Some toasted bread. Tobacco and liquorice. All kinds of nice, clean flavours – a faultless sherry cask.
Finish: long, slightly drier now, smoky sherry, lots of earthy and spicy notes now, but still kinda elegant in a way.
This is bloody good and what, only € 50? Canadian friends, don't hesitate. I believe you can pre-order from KWM and it will arrive in Spring.
Next up is a Velier exclusive (Italy), which is a vatting of two single malts, one from the South and North coast of Islay (probably Caol Ila and Laphroaig) married for 18 months in a single Oloroso cask.
Peat & Sherry (58,8%, Elixir Distillers for Velier Italy 2020, sherry butt #997152, 900 btl.)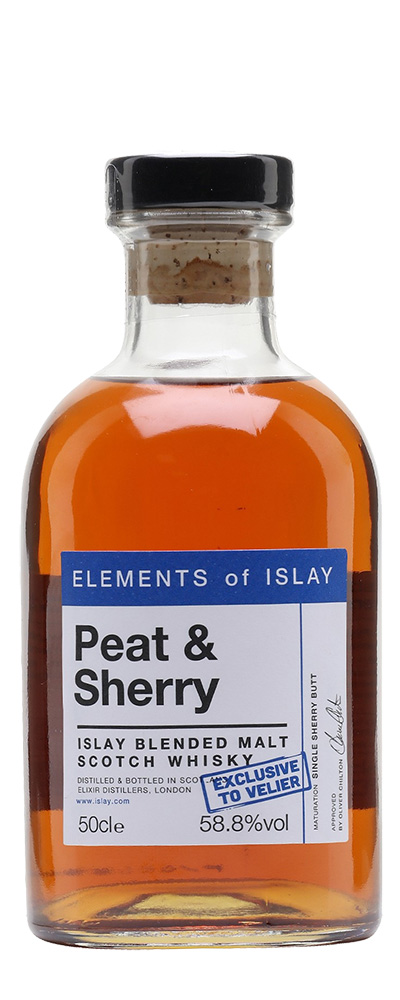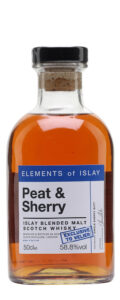 Nose: quite different. The colour was already much lighter and the profile as well. Less sherry, but definitely more refinement. Wet wool and damp earth, some gravel and smoked kippers. Ink. There's a subtle berry sweetness but it's not a sherry bomb like the one for Canada. Light lemon notes and a hint of sandalwood.
Mouth: much more coastal than the Canadian version. Seawater and seaweed, hints of iodine. Cold ashes, smoked olive oil and a hint of crushed black peppercorns. There's a flash of fruitiness as well (peach, orange). Light herbs and a little espresso towards the very end.
Finish: long, with herbal tea, chocolate and hints of wood embers.
More coastal notes here, and a finer style of peat, a finer style of whisky altogether. I feel the Canadian version is something you see less often, but this is also rather excellent. Around € 65.
Score: 88/100
This last one for La Maison du Whisky (France) is a mix of Laphroaig and Caol Ila from bourbon casks, and an Octomore aged in Oloroso sherry cask. Hence the cube root.
Peat Cubed Root (57%, Elixir Distillers for La Maison du Whisky 2020, bourbon + Oloroso sherry, 1050 btl.)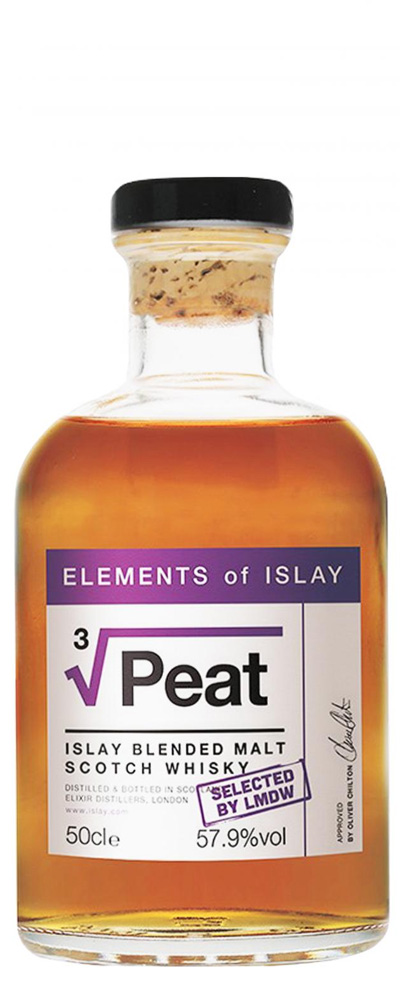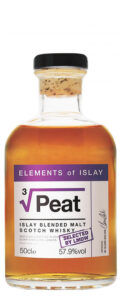 Nose: I was pleasantly surprised by the clean character of the first two, but this one is slightly dirtier in comparison. Some meaty notes, a little pickle brine and overripe fruit. Walnuts and other nuts. Burnt rosemary and heathery smoke. Light mineral notes as well.
Mouth: some nice peach and citrus notes, with plenty of herbs and intense, dry peat. Cold ashes. Quite lively but grassier than expecte and also a little sharp (Octomore style), with white pepper and raw wool. Matchstick heads. Hints of golden raisins, but the bourbon character is more prominent than the sherry.
Finish: long, slightly drier now, smoky sherry, lots of earthy notes now, but kinda elegant in a way.
Also good, but it suffers from the direct comparison, floating somewhere between bourbon and sherry, with a dirty touch. Also the most expensive version: around € 80 from LMdW.
Score: 85/100