We're back in Germany with three bottlings exclusive to DeinWhisky.de, two of them bottled by Sansibar and one from Douglas Laing.
My selection is a bit of a hotchpot, sometimes I just don't find appropriate sparring partners. We have a very expensive Mortlach 1998 from sherry wood, an old undisclosed Speyside 1991 single malt and a middle-aged and affordable Bunnahabhain 2005. Something for everyone?
Mortlach 22 yo 1998 (56,4%, Sansibar 'White Label' for DeinWhisky.de 2020, sherry butt, 152 btl.)
Nose: really complex, with nice rancio notes up front, followed by leather and sour berries, as well as some juicy plums. Walnuts and roasted hazelnuts. Moist tobacco leaves and dusty cupboards. Gingery notes. Old copper coins and polished wood. A whiff of mint and eucalyptus as well. It's clean, it oozes sherry and reminds me of the Mortlach 16 Years (the good batches, that is). Really good.
Mouth: a spicy onset, with pepper and cinnamon, quickly joined by juicy plums, orange liqueur and leather. Hints of sandalwood, a lot of herbal notes and dried mint. The robust Mortlach body is present, but it's never becoming meaty or dirty. Slightly old school with hints of proper Oloroso. Some exotic herbs and tea, with a little wood char.
Finish: long, spicy, with drying oak, tobacco and this sourish fruitiness.
A great profile with complexity and plenty of punch. Due to the high price, it doesn't fly off the shelves, but the quality is very high in any case. Only available from DeinWhisky.de
Secret Speyside Single Malt 29 yo 1991 (49,1%, Sansibar 'Clans Label' for DeinWhisky.de 2020, hogshead, 242 btl.)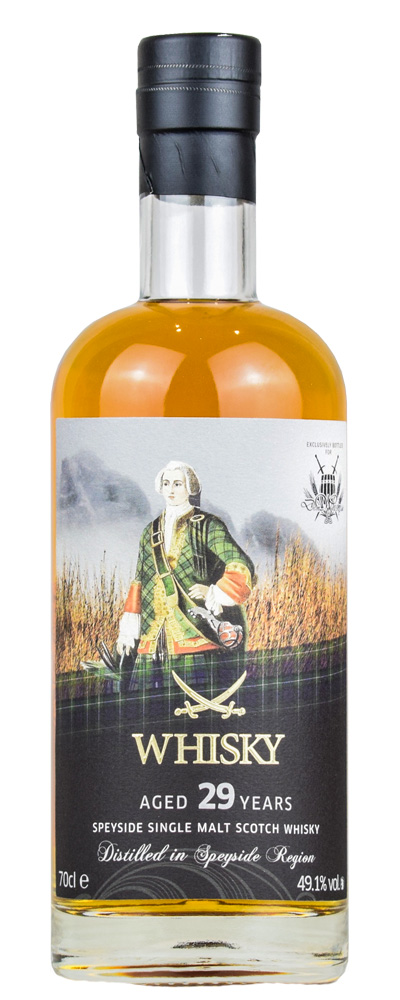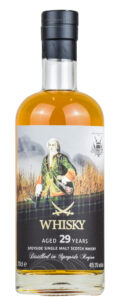 Nose: a mild and slightly dusty profile, with dried grassy notes, walnut shells, light candlewax and forest honey. Quite a lot of sunflower oil. Some vanilla, yellow plum and yellow apple, but not really the fruity brightness we were expecting. It feels slightly capped in a way.
Mouth: a similar waxy style, with sunflower oil again, as well as chamomile, stewed apples, oranges and muesli. Nutty notes. Some 'tired' wood and vanilla too. Very elegant, with a leafy / herbal side and a caramelly note in the end.
Finish: medium, mellow, on cake, cereals and slightly bitter herbs.
This one is harder to score. It's rather harmonious and nicely waxy, showing an old school character just like the Mortlach, but on the other hand it's also a little shy, even a little boring. Still available from DeinWhisky.de
Score: 86/100
Bunnahabhain 15 yo 2005 (54,9%, Douglas Laing Old Particular for DeinWhisky.de 2020, refill barrel, 225 btl.)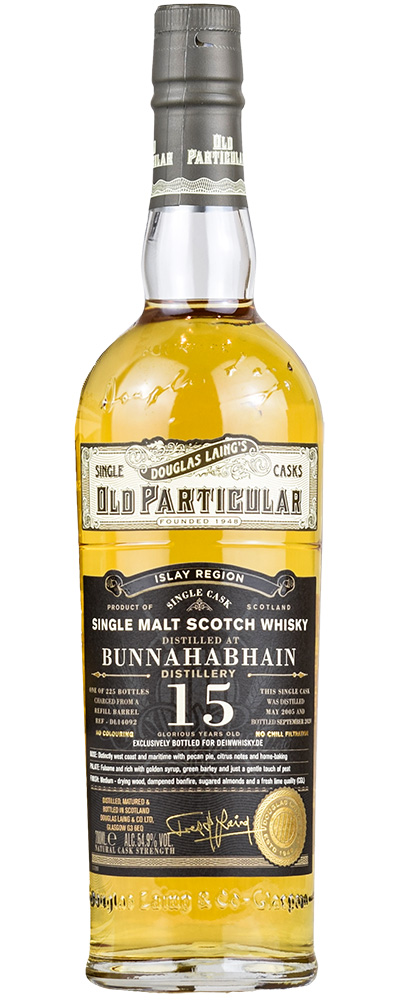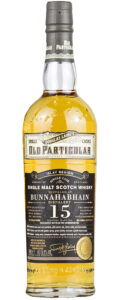 Nose: rather fruity, with fresh apples, tarte tatin and lemony notes, maybe a hint of pineapple. Then a classic sea breeze, soft hints of chalk and fresh laundry, as well as some shortbread. Hints of herbs and coconut oil too.
Mouth: zesty grapefruit and green apples, mingling with herbal notes, ginger, malty notes and a hint of vanilla. Chalk and grist. White pepper and minerals. Maybe a light alcoholic edge but otherwise very flavoursome and balanced.
Finish: quite long, with ginger, bitter lemon and peppery oak.
Very balanced, rewarding Bunnahabhain showing all the expected elements in the right amounts. Good value for money here. Still available from DeinWhisky.de
Score: 86/100