Old Master Spirits is an Australian independent bottler of spirits. The first release was a couple of old cognacs as well as some bottles of 'seasoning' Pedro Ximénez, later they will also bottle whisky and rum. We'll focus on the cognacs for now, both of which came from the stocks at Jean-Luc Pasquet.
The first is a 1957 Fins Bois that was distilled by Jean Aubineau (a sister cask of Le Têtu). It spent the whole 67 years in cask, mind you. The other is a 1984 produced by Claude Hillaire, who took over 15 ha of family vineyards in the 1970s.
Cognac Jean-Luc Pasquet 63 yo 1957 'Fins Bois' (47,6%, OB for Old Master Spirits 2021, 70 btl.)
Nose: juicy fruits with hints of apricot tartlets, nectarines, sweet pineapples and mirabelles. A light hint of toffee, but also earthy spice in the background. Mint tea, cedar wood and a light grassy note, as well as oak polish. Just a whiff of potpourri. You do feel the oak but it stays really elegant.
Mouth: same feeling, it's the very fruity, slightly tropical, elegant style but here it comes with a firm grassy side and overinfused tea. A lot of spearmint, maybe tobacco leaves and something lightly hoppy. Still pineapple and juicy plums, with orange peel on the side.
Finish: quite long, with hints of orange peel, wood spice and something nicely candied.
Even with the slightly deeper woody footprint, this stays very elegant and fruity. A nice selection for a first bottling.
Cognac Jean-Luc Pasquet 36 yo 1984 'Grande Champagne' (53,8%, OB for Old Master Spirits 2021, 168 btl.)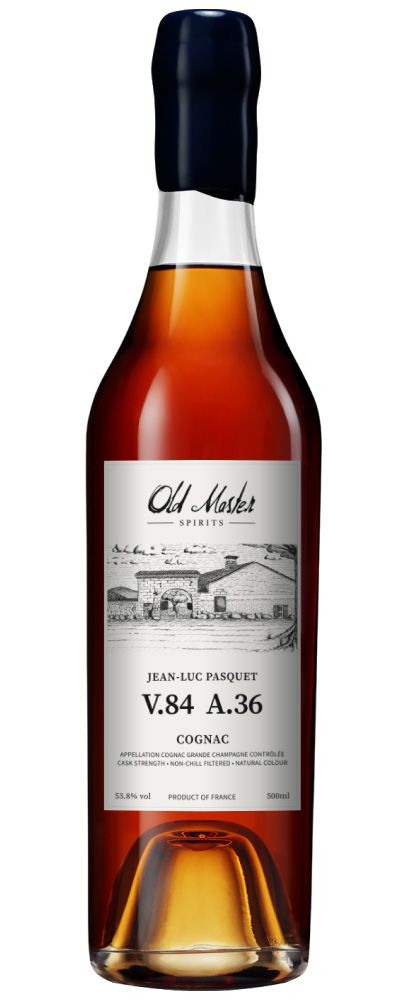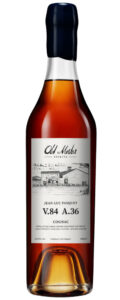 Nose: this one is more candied on apricots, guava, redcurrant and even strawberries, mixed with some floral touches and honey. I once had a jam made of strawberries and rose petals, that comes close. Also peppermint and moderate oak.
Mouth: a darker profile now, with blackberries, hints of liquorice, and slightly burnt sugar, but also a brighter raspberry note and menthol. Slightly more tannins than in the 1957, with a subtle bitterness of Seville oranges and marmalade.
Finish: medium length, with hints of nutmeg and cinnamon, as well as red fruits and woody notes.
A really great nose with deep fruity notes that are nicely candied, coupled to darker notes on the palate. A perfect contrast with the delicate 1957. Both sold out, as far as I know.
Score: 89/100