The Bookinist is a Ukranian series by Anatoliy Berezovskiy, somehow related to the Scyfion bottlings which may be better known (around here at least). Each of the bottlings is inspired by a book – great idea – and the other common thread is the love for wine casks. The labels are rather classic but beautifully executed, with lots of details.
So far they've only had two releases: the first is the Glen Garioch 2008 'War of the Worlds', which was matured in a bourbon hogshead and finished in a Mouton Rothschild red wine cask. The other one is an Ardmore 2008 inspired by The Brothers Karamazov and finished in Latour-Martillac. Both are not really available in Europe but there are plans to launch some upcoming releases here as well.
You may know I'm not the biggest fan of red wine casks myself…
Glen Garioch 11 yo 2008 'War of the Worlds' (57,5%, The Bookinist 2019 (Hunter Laing), Mouton Rothschild wine finish, 317 btl.)
Nose: the wine is obvious, with this musty cellar note and slightly sulphury edge. Also hay and old fabrics, hints of tobacco and a little cocoa dusting. Subtle red fruits and toffee in the background, kind of a metallic sweetness and plenty of spice (black peppercorns and some clove).
Mouth: quite powerful, the wood and wine give it a firm, tannic backbone, which then mingles with brambles and plums, dark chocolate and ginger. Some heavily roasted notes (nuts, coffee, toasted brioche) with menthol and herbal notes. Hints of chilli, nutmeg and a little wormwood.
Finish: quite long, still clearly winey, with a bitter vermouth note and a lightly smoky edge.
Quite powerful and dry, with a clear winey side. Rich and full-bodied but the wine tends to take over, taking away some distillery character. Not my style. Around € 125 in Ukraine.
Ardmore 11 yo 2008 'The Brothers Karamazov' (59,4%, The Bookinist 2019 (Hunter Laing), Latour-Martillac wine finish, 216 btl.)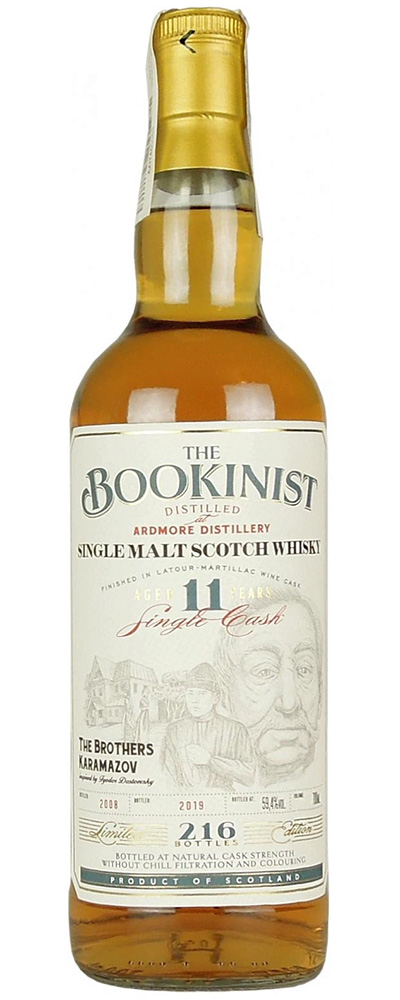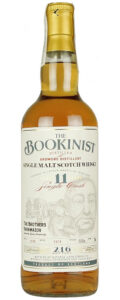 Nose: the same idea really, although it does work better with a peated spirit. Again it's a roasted note that prevails: spent matchstick heads, a cold fireplace with embers, mixed with walnuts and tobacco, as well as some meaty notes. Some toffee and strawberry jam, but not much wine as such.
Mouth: rather hot, and the wine is less integrated now, bringing rubbery notes to the table, alongside oak spice like crushed black peppercorns, nutmeg and ginger. Bitter chocolate. Big ashy notes, with a big tannic side again. Mentholated notes and burnt sugar. Quite a heavy hitter.
Finish: long, very ashy, with the dryness that we expect from a wine cask.
While the nose was fairly balanced, with the wine cask in sync with the peaty character, the wine takes over again in the mouth. Glen Garioch and certainly Ardmore produce some very fine malts but I don't see the point in trying to 'enhance' them with a posh left bank Château. But of course it's a personal preference, better luck next time with more naked whisky. Around € 125 in Ukraine.
Score: 79/100