Earlier this year the well-known German distributor Kirsch Import released four Berry Bros & Rudd bottlings, all exclusive to Germany and all finished in aromatic wine casks.
Today we're shedding a light on two undisclosed single malts from this series: the Orkney Islands 2000, a 20 year old Highland Park (we assume) finished in an Amarone wine cask, and a Secret Speyside 1990 matured in a sherry cask and finished in a red Bordeaux wine cask.
Secret Speyside 29 yo 1990 (49,6%, Berry Bros & Rudd for Kirsch Import 2020, Sherry cask + red Bordeaux finish, cask #18005)
Nose: a really nice sweet & sour fruit profile on strawberries, rhubarb jam and redcurrants, with some tangerine and orange peel in the background. Faint hints of tobacco leaves and polished wood. A few drops of flowery Armagnac and mint cordials.
Mouth: the bright fruitiness of these undisclosed Speyside malts is present, showing tangerines, bananas and some beeswax. Spearmint. Candied ginger. Hints of dark fruits and caramelized sugar in the background, as well as a light herbal bitterness. Touches of black pepper and floral honey.
Finish: long, getting drier, on fruit tea, walnuts and these resinous oaky notes.
A great nose and a lovely tart fruitiness throughout. Pretty delicious but the winey side gets a little louder on the palate, costing one or two points in my book. Well balanced though. Still available in several German stores, for around € 230.
Orkney Single Malt 20 yo 2000 (53,6%, Berry Bros & Rudd for Kirsch Import 2020, Amarone finish, cask #15, 600 btl.)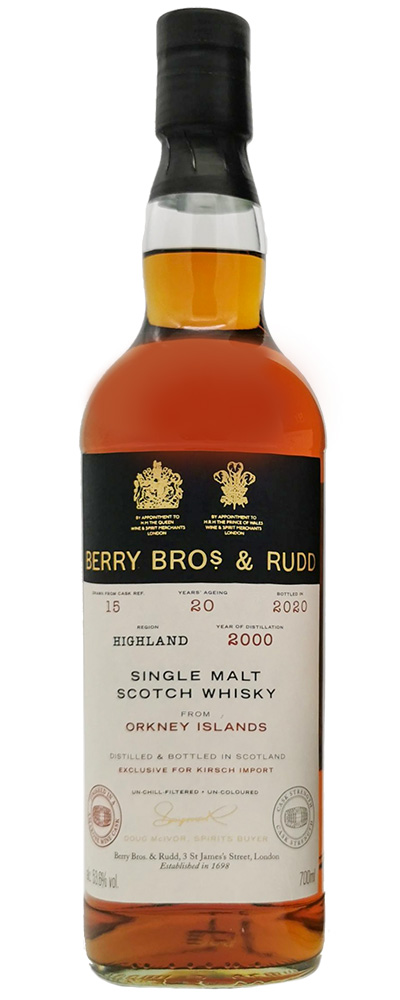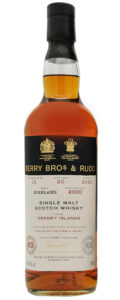 Nose: the earthy side of the spirit is amplified by the wine. A lot of exhaust fumes, smoked ham, leatherette and burnt heather. On the other hand there's a sour fruity side, with red plums, grapes and orange peels. Hints of lanolin, roasted nuts and brown sugar. Good.
Mouth: dark and bittersweet, with a more pronounced winey side, but it could be mistaken for a sherry cask. Dark chocolate, coal smoke and burnt caramel. Hints of red berries and Italian vermouth. Heather honey and dried herbs. Cloves. A hint of cedar wood as well.
Finish: long, on oak spice and dark fruit flavours, with roasted nuts and peat smoke.
A strong, muscular and reasonably complex Orkney single malt. As you may know I'm not the biggest fan of red wine finishes, but in both cases the job was well executed. Still available in a few German stores, for around € 150.
Score: 87/100