Undisclosed whiskies are really everywhere these days if you look among independent bottlers. Sometimes it's a matter of casks that don't fit the distillery profile, but often I'm convinced distilleries don't want you to easily see the premium they're asking for official bottlings. If, say, Laphroaig has a big surplus of excellent 1990 casks, then indies can sell them for a lot less…
The Whisky Jury has an undisclosed Islay Single Malt 1990 in its latest batch. Thirty years old, matured in refill wood. At the same time there's a sister cask exclusively available in Singapore.
Islay Single Malt 30 yo 1990 (51,5%, The Whisky Jury 2021, refill barrel #4404303, 264 btl.)
Nose: such elegance! The Islay peat has been transformed into gentle, waxy smoke which leaves plenty of room for fruity notes. Think apricots, pink grapefruit and some sweet and sour pineapple. Subtle spearmint (evolving into camphor over time), honey and tiny herbal notes. Just a whiff of vanilla and polished wood. Hints of lemony brine and dusty canvas. Excellent.
Mouth: smokier, more mineral now, with coal smoke and a subtle tarry note, including a gently bitter herbal side. Very refined again. The second wave of aromas is fruit: more pineapple, hints of green mango and apple. Increasing notes of herbal tea towards the end, alongside floral honey and a pinch of pepper.
Finish: long, still showing some fruits, mixed with medicinal potions, cardamom and a subtle waxy echo.
A highly refined, complex and layered Islay malt, just like the label that adornes it. The price is fair as well. What's more to say about this beauty?
Islay Single Malt 30 yo 1990 (49,8%, The Whisky Jury for Nanyang Whisky 2021, refill barrel #4404302, 242 btl.)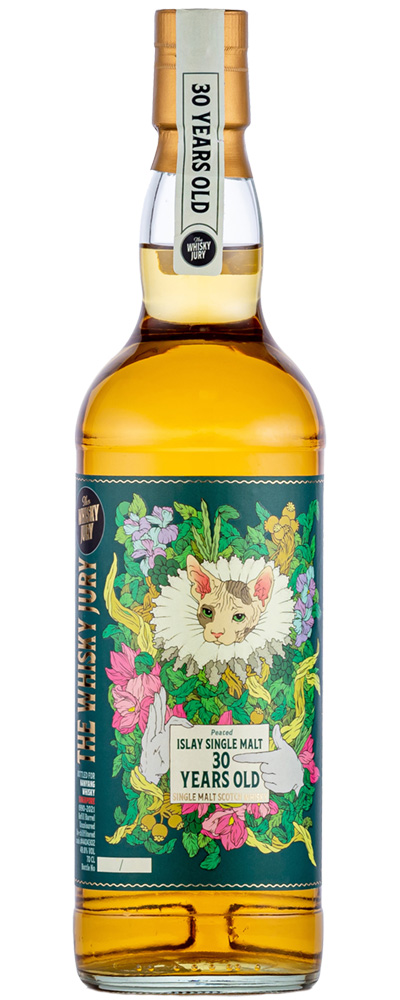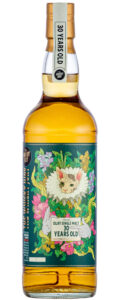 Nose: slightly more mineral and clean at first. Hints of seaweed and ginger, spearmint, beach pebbles and grassy / herbal smoke. Hints of iodine. Orange, grapefruit, lime. Salty sea breeze and wet fabrics. Slightly more chiseled – I was going to write that this one lacks the warm waxy touch and subtle vanilla that I found in its sister cask, but after a while they seemed to grow towards each other and became hard to discern.
Mouth: same evolution from herbal and coastal notes to juicy fruits and back. Slightly more hints of white pepper now, maybe slightly more peat as well. Some other Laphroaigs from this vintage are even more fruity, but it's nice to have nice leftovers of this tarry smoke as well. Barley notes, seawater, grapefruit zest and the lightest hint of mustard.
Finish: long, still fairly peppery, with oily touches, lemons and medicinal notes.
What a great combo, these are really excellent drams. The other one gets one extra point for having a brighter fruitiness and balancing the austerity with rounder notes just a little more. Both great though. Score: 90/100