Two Ben Nevis expressions recently bottled by Liquid Treasures and friends. We start this session with the 1999 vintage, less common on the market. The other one is the better known 1996 vintage, shared with Acla da Fans for the Swiss market.
Ben Nevis 22 yo 1999 (46,5%, Liquid Treasures & Nanyang Whisky 2021, hogshead #307, 293 btl.)
Nose: quite austere, with lots of vegetal notes (cut grass), fragrant citrus blossoms and a hint of aspirin. Cereals with mustard. Grapefruit peels. Hints of brine and chalk, with some yoghurty undertones.
Mouth: there's still a chalky, mustardy side but also a nice fruitiness now. Green apples, lime and unripe stone fruits. Fresh and bright. Evolves on grassy notes and walnuts, white pepper and saltwater. After trying the 1996 and coming back to this one, it feels slightly meaty and dirty.
Finish: quite long, clean and green. Lots of chalky notes and minerals.
This 1999 vintage shows the greener, sharper side of Ben Nevis. I'm not always into this profile, but I do like the fruity touch on the palate. Good selection. In my opionion the only real problem for bottlings like these is the quality of the regular 10 year old.
Ben Nevis 25 yo 1996 (53,6%, Liquid Treasures & Acla da Fans 2021, bourbon hogshead #1747, 170 btl.)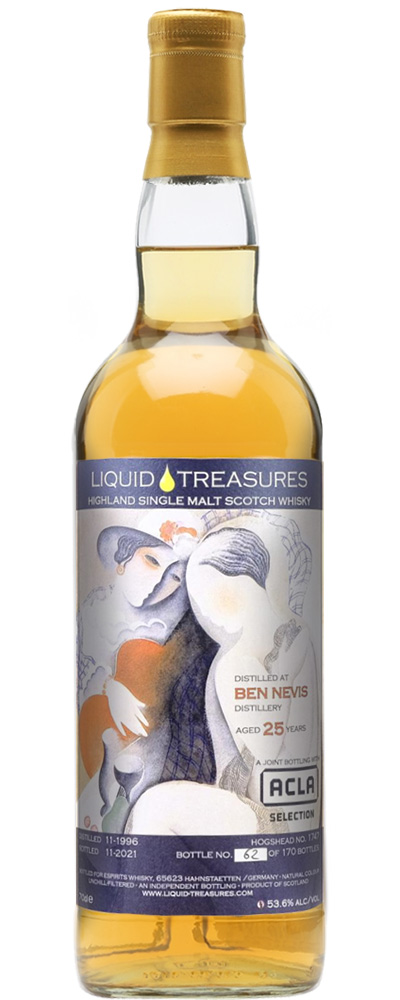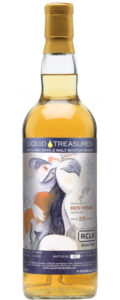 Nose: waxier and (somewhat) rounder. Candlewax, concrete and wet gravel, with acidic oranges and minty notes. Green apples and flashes of unripe pineapple. Whiffs of eucalyptus. A little banana skin as well as wet wool.
Mouth: flashes of tropical fruits now, like passion fruits, green mango and pink grapefruit. They're more or less overtaken by lemon peels though, as well as resinous notes and a green bitter edge. A gin-like note and flints too. Grassy and saline hints towards the end.
Finish: quite long, on dried Mediterranean herbs, citrus peels and chalk.
The fruitiness in this one is also kept back a little by a big austere, herbal side. I expected it to rise above the 1999 and it does, but not head and shoulders. Sold out from eSpirits, still available from deinWhisky for instance. Score: 89/100