The 50th bottling in the Whisky Sponge series will drop today. It comes from Bowmore distillery and it is guaranteed 17 years old.
We put it head-to-head(-to-head) with two sister casks of the same age, bottled last year in the Single Malts of Scotland series. While the WhiskySponge release matured in a refill sherry butt (sourced from Signatory Vintage), the other two are standard ex-bourbon barrels.
Bowmore 'Guaranteed 17 yo' (53%, Whisky Sponge 2021, refill sherry butt, 679 btl.)
Nose: a gentle Islay character with leather, soft smoke from smouldering newspapers and dried seaweed. Subtle camphor and pipe tobacco. In the background there are slightly syrupy fruits, like apricots and peaches, as well as some pink grapefruit. Also subtle notes of pine needles, menthol, hessian and hay. Great so far.
Mouth: a similar combination. On the one hand there are fruity notes (hints of dried mango slices and pink grapefruit, peaches again), on the other hand we find menthol, herbal teas and grassy notes. Lemon and brine too, as well as wee hints of sandalwood, canvas and dried wildflowers.
Finish: long, on soft resins and ashes, briney fruits and herbal tea.
The sherry butt works beautifully alongside the Islay character. Of course the herbal  side and tobacco leaves less room for the tropical notes that can be glorious in these early 2000s expressions, but overall this is a very complex, more wintery version. This will be launched today via Decadent Drinks.
Bowmore 17 yo 2003 (54,9%, Single Malts of Scotland, barrel #93, 172 btl.)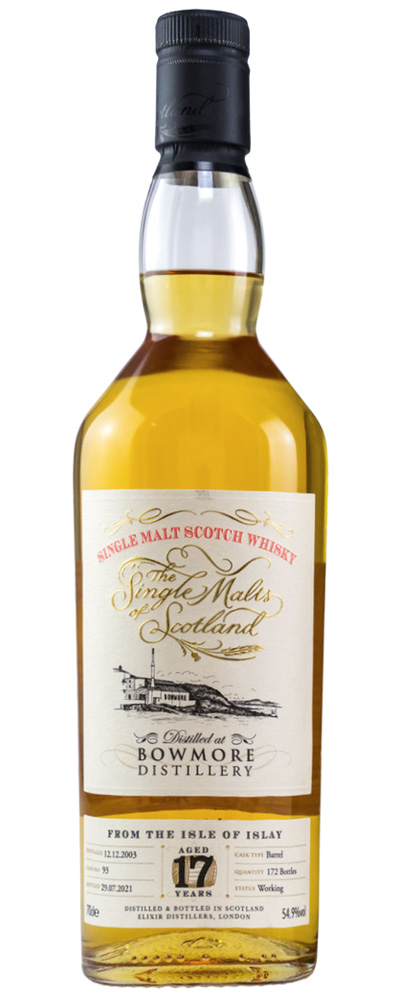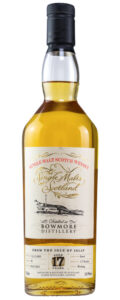 Nose: much cleaner. You get less smoke here, and the fruitiness is thinner. Sweet grapefruits plus some unripe pineapple, as well as banana ice cream. Behind this is an old stove, some harbour aromas and a hint of cake. Light newspaper ink as well.
Mouth: the fruits are more prominent now and there's a nice fatty side to it. Plenty of apples, hints of lime and pink grapefruit, still a hint of mango and passion fruit, mixing nicely with plenty of seawater notes, floral honey and drops of mercurochrome. Whiffs of smoke in the distance.
Finish: long, quite salty and peppery, with hints of aniseed and citrus peels.
Perhaps just a little greener than we expected and very coastal. Still very Bowmore though, with beautifully bright and rather tropical fruits. I've only seen this for sale at Whisky Maniac. Score: 89/100
Bowmore 17 yo 2003 (57,8%, Single Malts of Scotland, barrel #81, 209 btl.)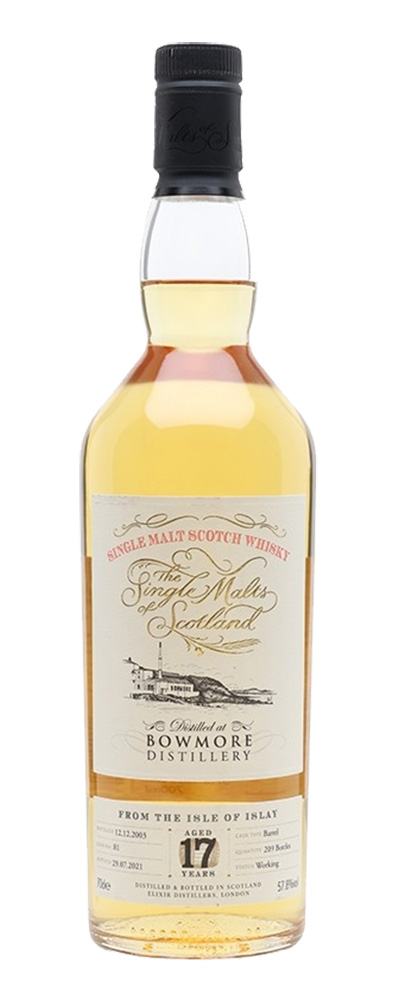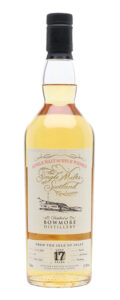 Nose: similar but even more focused and narrow. The pineapple is less noticeable so you get more yellow apple, lemon, grapefruit and a hint of rhubarb jam, as well as subtle honey and vanilla. More obvious alcohol too. Sea breeze and distant smoke, light biscuits and some seashells.
Mouth: slightly sweeter at first, with stewed apples and a wee hint of passion fruit alongside grapefruits and floral honey. After that the saltiness grows stronger again, bringing kippers and seafood with lemons. The bourbon wood with its grassy side and aniseed seems louder here compared to the sister cask.
Finish: long, still very brackish, with a subtle charred note, ginger and herbs.
A very focused, saline style, with the bright fruits being pushed back, becoming rather austere at some points. It seems Bowmore 2003 is less tropical than 2001 anyway, and this cask is further behind its sister in that respect. Still available from Whiskybase and others. Score: 88/100