After the Bunnahabhain 1998 Calvados finish we're also trying the other two Feis Ile 2022 bottlings from this distillery.
The first one is Bunnahabhain Abhainn Araig, which means Araig river in Gaelic. This NAS whisky has been matured in ex-bourbon and PX sherry octave casks. The other one is the heavily peated Bunnahabhain Mòine 2004 which was given a second maturation (just over a year) in Hungarian Tokaji white wine casks.
Bunnahabhain Abhainn Araig (50,8%, OB for Feis Ile 2022, Pedro Ximénez Octave cask finish)
Nose: starts pretty familiar, in the sense that you get the classic Bunnahabhain profile. Sea breeze and lots of mashy and leafy notes. Some chestnuts and walnuts, as well as a dry, dusty chocolate character. Truffles indeed. Quite nutty and autumnal, not bad but I expected a more in-your-face effect from the octave casks.
Mouth: starts oily, with plenty of toffee notes, moving towards milk chocolate. Very nutty again. Now you get a spicy / punchy side that could be the octave casks. Leathery notes. Walnuts, a hint of salt. Tobacco leaves. The youthful (slightly alcoholic) edge is easily noticeable, it misses fruits and it's not particularly clean and vibrant either.
Finish: medium long but suddenly a lot thinner, on chocolate coated nuts, mocha and spicy oak.
Another Feis Ile bottling from Bunnahabhain that doesn't really impress me. It's not the most impressive sherry influence, it doesn't have a lot of punch and I can't help but feeling the core range expressions offer better value for money. Available from the Bunnahabhain webshop or Master of Malt for instance.
Bunnahabhain Mòine 2004 Tokaji Finish (52,2%, OB for Feis Ile 2022, 1693 btl.)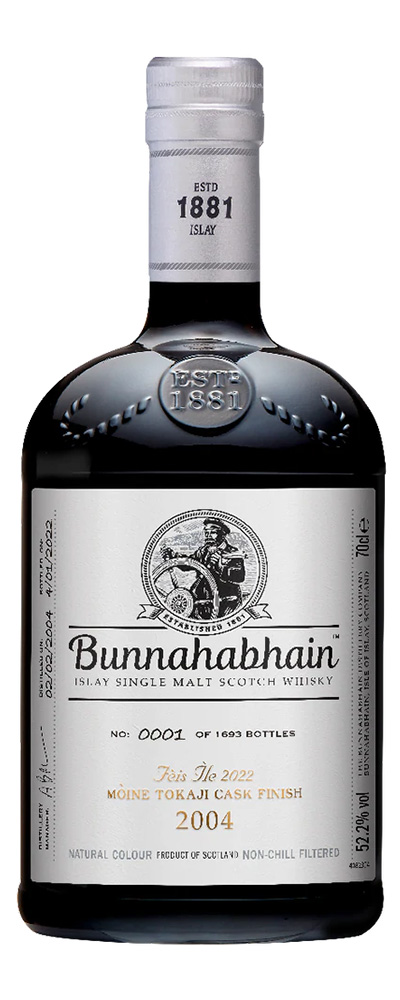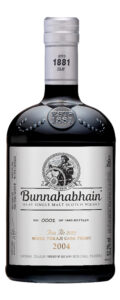 Nose: sweet wine and heavy peat – it's the Port Charlotte VDN trick and it does work for Bunnahabhain as well. I get sweet pear and lemon candy, hints of white grapes and golden raisins. This is nicely mixed with mentholated (moderate) peat, thyme syrup, black peppercorns and a hint of sandalwood. Hints of linseed oil and mint.
Mouth: oily arrival, showing more cold ashes now, with bright citrus notes, unripe pear and more hints of grapes. A little vanilla. There's a lightly earthy bitterness creeping in, with leafy notes and dried herbs. Quite medicinal towards the end, with some salt and a light woody note.
Finish: quite long, smoky, with more herbs and a hint of floral wood.
Much more to my liking. A sweet wine cask can have a very positive effect on a peated whisky, and that's exactly what is happening in this Mòine Tokaji release. Quite expensive in my opinion but at least the quality is there. Also available from their online shop. Score: 88/100