Cut Your Wolf Loose is a whisky bar in Brighton, but it's also a whisky label. Both are the brainchild of Sebastian Woolf, also known for his Artful Dodger brand. CYWL has a very modern, eclectic house style, often graffiti-inspired.
We start with an Aberfeldy 2014 and a Tamdhu 2008. Then we get into peated whisky with a Caol Ila 2009 and an Islay Blended Malt 2011.
Aberfeldy 7 yo 2014 (57,7%, Cut Your Wolf Loose 2021, refill hogshead #581, 266 btl.)
Nose: a lot of butterscotch and caramel latte. Some wholegrain bread, muesli and hay underneath, giving it a breakfast character. Then pastry dough comes out, with some dried wildflowers / herbs and dusty barley.
Mouth: quite impactful. Sweet and bready again, but it quickly becomes spicy. Toasted malt, more caramelized notes and hints of dark abbey beers. Then toffee and corn flakes. There's a slightly sharp and bitter edge to it, bringing along some roasted walnut, herbal notes and plenty of roasted grains. One of these recharred refill hogsheads perhaps? A little coffee and liquorice in the end too.
Finish: quite long, with more grainy notes. Finally also a leafy character.
Always nice to see independent Aberfeldy, you don't see them every day. It's quite a young and concentrated whisky, indicating something more intense than a plain refill hogshead. Standing out from the crowd, in any case. Available from CYWL's webshop.
Tamdhu 14 yo 2008 (60,8%, Cut Your Wolf Loose 2022, hogshead #2331, 190 btl.)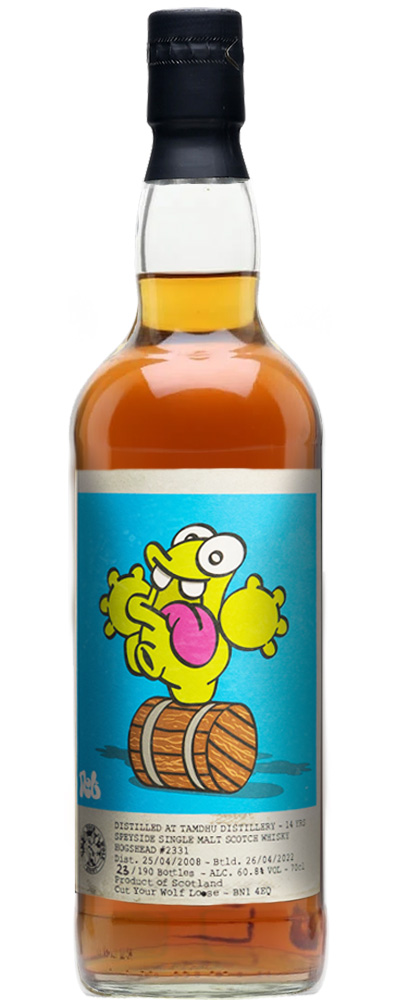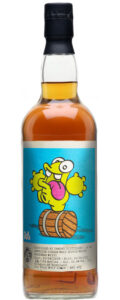 Nose: leafy sherry, with some mossy notes and yellow apples, slightly musty oak and a faint minty hint. Mixed nuts, chocolate biscuits and toffee. The balance between the spirit and the cask is really nice – this could have been an official release.
Mouth: punchy but drinkable at cask strength, and fresh. I'm getting a modern Macallan vibe now, with caramel, soaked toasted oats and orange peels. Then hints of cocoa come out, as well as some roasted coffee beans and black pepper. It lacks a bit of fruit perhaps, and the wood spice is quite strong, but the style of sherry is nice enough.
Finish: long, with malty and bready notes, toasted wood and hints of cocoa.
A clean, dry style of sherry. Honest whisky that wouldn't be out of place in the recent ranges from Tamdhu or Macallan (where it would be a lot more expensive). I like it a lot. Available from CYWL's webshop. Score: 87/100
Caol Ila 12 yo 2009 (59,9%, Cut Your Wolf Loose 2022, refill bourbon cask #119096, 283 btl.)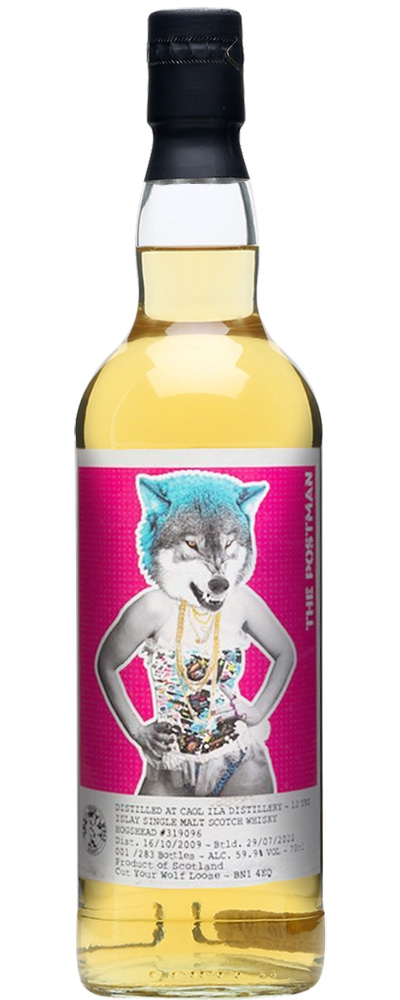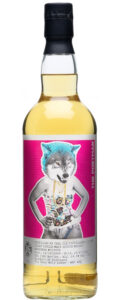 Nose: the vegetal and savoury style of Caol Ila. Kelp and whelks, lemons and chalk, as well as fatty peat. Some leafy notes and tree bark. Then almonds and a hint of butter as well. Relatively gentle smoke.
Mouth: strong and sharp, with lemon juice at first, gradually moving towards heavy coffee and cocoa. Seawater and kippers. Pepper. Then salted almonds, maybe even a hint of chlorine (the high ABV of course). Water dissolves this and highlights the dark mocha notes. Smoke stays in the background.
Finish: long, coffee with salted lemon and ashes.
Not as pristine as some other Caol Ila expressions, I'd say. This is quite savoury with a growing darkness as it goes down. Definitely okay. Available from CYWL's webshop. Score: 84/100
The next one is a bit of an old acquaintance. Some time ago I reviewed a highly interesting Bunnahabhain 2013 from a rare Vino de Color cask. After emptying that cask Seb used it to finish this On a Saw Mill. Technically this is a blended whisky, but I hear the biggest part is Laphroaig.
Islay Blended Malt 'On a Saw Mill' 10 yo 2011 (54,7%, Cut Your Wolf Loose 2021, Vino de Color butt #323, 305 btl.)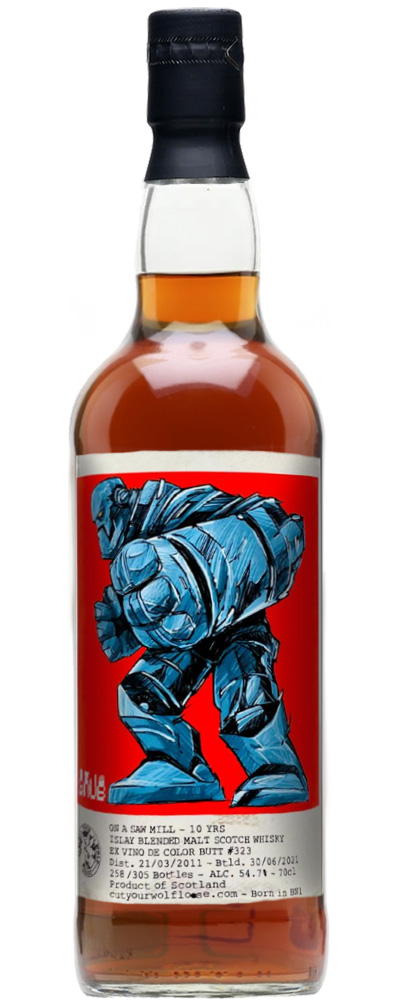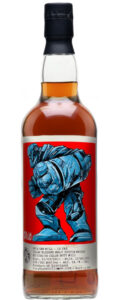 Nose: the dark caramel and coffee notes that we found in the Bunna are back. Sticky toffee pudding with a whiff of smoke. Thick must. Then chocolate truffles, tobacco, raisins and dark cherries. Also cinnamon, barbecued meat and herbal notes and hints of overripe pineapple.
Mouth: thick and punchy. I get very dark maple syrup, as well as truckloads of milk chocolate and tobacco. Cigar boxes and Cecina de León. Herbal meat sauce. Then back to raisins and figs, with chocolate coated nuts. A few drops of cough syrup as well. On the whole it really finds the sweet spot between savoury and sweet sherry.
Finish: long, on chocolate coated raisins, tobacco and herbal tea.
This works much better than the Bunnahabhain, in my opinion. Maybe it's the intensity of the cask or simply the resistance of the peaty malts? Intruiging whisky with some sherry flavours from the past. Overall a lovely dram, educational and enjoyable. Sold out. Now only available as a limited 1/23 bottled with signed artwork. I see deinWhisky also has some remaining bottles. Score: 89/100