It's becoming a yearly tradition to buy a sample set and participate in the Blind Tasting Competition by Dutch retailer Best of Wines. Feel free to read about my experience from last year.
It originated at the Usquebaugh Society many years ago, but when they decided to stop, Nils and his team took over. Even when it's often crazily difficult to guess the distillery and age of a blind whisky, it's always a lot of fun to do. So far things are going well, I hope to keep my top-10 position.
I made the same remark last year, but I'd like to repeat my suggestion to ask for the cask type as well (or the predominant cask type). I think it would be interesting to distinguish between bourbon, Port, Sherry, Sauternes, etc. Also, I think giving 20 points to the distillery and 20 points to the region may be a little too much. After all, one is always related to the other (and how relevant are regions anyway?)
Mannochmore 22 yo 1997 (55,8%, Gordon & MacPhail Connoisseurs Choice 2020, first fill sherry butt #12098, 490 btl.)
Nose: some fruity notes at first (yellow apples and peaches) with a very light tropical edge. Vanilla biscuits and almonds. Seeming young, with hints of active bourbon wood (green pepper and herbs), maybe even virgin oak? Light mint and honey.
Mouth: quite spirity again, with a burning side and a firm dryness. White pepper and vanilla. Then it becomes sweeter, with hints of apple and peach as well as some golden syrup. It moves towards caramelized notes, liquorice, sawdust and Demerara sugar towards the end.
Finish: quite long, with oak spice and some grassy notes.
I was in the right direction (Speyside around 56%) but I though it was considerably younger. Rather tasty whisky, but the wood character is overtaking the sherry goodness. I always find this kind of profile (youngish, woody) overpriced.
Lagavulin 12 yo 2008 (56,5%, OB Special Release 2021, refill American oak casks)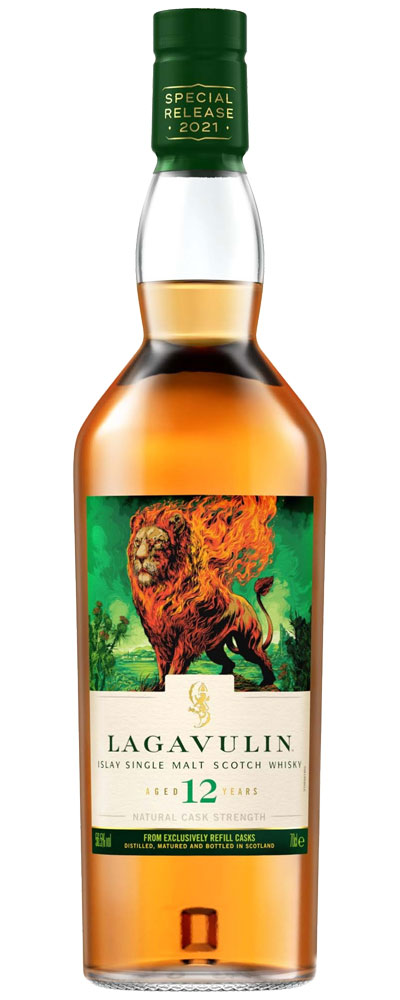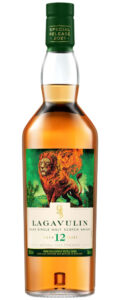 Nose: a fierce, youngish peat bomb. There's a clear coastal side with boat rope, iodine and fresh seaweed. Then some chalky notes, lemons and menthol. The medicinal notes grow stronger over time. There's a light sweet meatiness in the background, Ledaig style.
Mouth: subtle orchard fruits at first (peach and apple) surrounded by raw grainy notes, white pepper and an oaky touch. The peat smoke is quite big. Then lemon infused oils and hints of mechanical oils. The saltiness keeps growing, alongside tarry ropes and a subtle beefy note again.
Finish: very long and warming. Sweeter grains are mixed with smoked lemons and grassy notes.
Ledaig crossed my mind, but in the end I wasn't entirely sure so I still went for the Islay region (blind tasting is also probability calculation). Somehow this felt far less complex than I remembered, but of course we're getting 2 cl (at best) to work with. It's interesting to see people only gave this an average score of 80/100. The same goes for me, I gave 86/100
Fettercairn 14 yo 2007 (55,2%, Alistair Walker Whisky Co 'Infrequent Flyers' 2021, Oloroso sherry puncheon #1823, 622 btl.)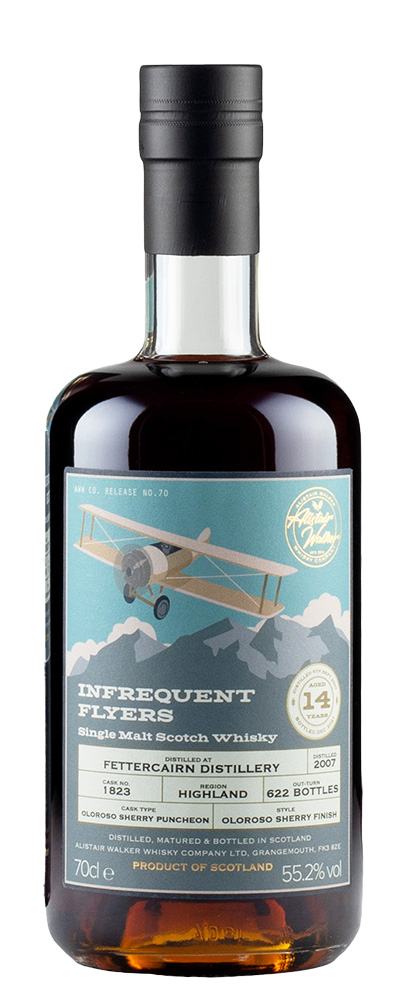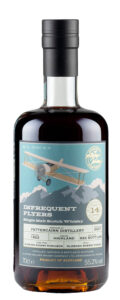 Nose: dark berries and red apples, with rum soaked raisins, plums and hints of café latte. Also a strong, heady note, with some heathery hints and ginger. My first guess was a Port cask, but there was something very active to it (maybe re-charring) that I couldn't put my finger on.
Mouth: roasted nuts with a rather robust side. Some herbal and varnished notes. Then it gets a tad meatier, with growing chocolate notes and walnuts too. Now it's clearly a dry sherry. While there's a plummy note, it's mostly old dusty wood and spice that comes out.
Finish: long, dry and fairly spicy, with herbal notes and cocoa.
Quite dry and extractive, but not a bad dram. In any case there's a rich and intense sherry influence albeit with loud oaky overtones. I got the Highlands right, but I couldn't wrap my head around the distillery. With such a sherry façade the distillery is pretty irrelevant (I imagined it could be Tomatin). Score: 83/100
Springbank 12 yo Cask Strength (55,3%, OB 2020, 65% bourbon + 35% sherry)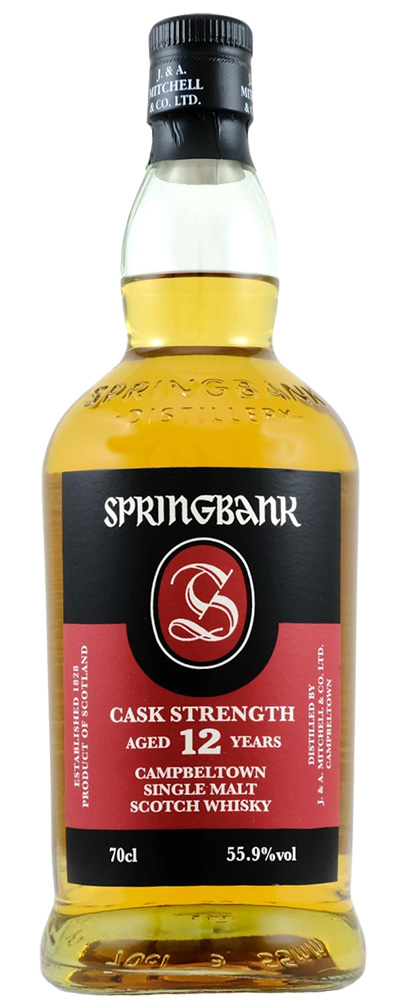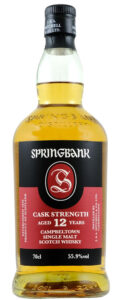 Nose: unripe peach, nice citrusy notes and candle wax. Hints of barley sugars. Then hints of canvas and wet chalk, as well as a little metal polish. A really nice, old-school nose. Kilkerran springs to mind.
Mouth: punchy but really beautiful. It is really waxy, but also fruity and peaty, with a very big presence. Then mineral notes start growing strong, with some earthy peat but also rounder waxy notes, a touch of vanilla and lime. White pepper grows over time.
Finish: long, spicy and mineral. Hints of liquorice and walnuts.
Really beautiful whisky. I kept thinking it had to be Kilkerran, even though I couldn't find an expression with this strength and age. Everything pointed to Springbank Cask Strength, but somehow it didn't click. I prefer the 100% bourbon 12 CS from 2021 but this is excellent as well. Top notch whisky. Score: 89/100