With the arrival of the new Springbank releases (Local Barley 2022 among others) also comes a new set of whiskies from Kilkerran distillery.
This year the Kilkerran 8 Year Old Cask Strength release is getting two sibling version, one Sherry Cask Matured and one Port Cask Matured. This should be interesting.
Kilkerran 8 yo Cask Strength – Sherry Cask Matured (58,1%, OB 2022)
Nose: a really nice, juicy sherry character. Lots of redcurrants and sour cherry candy. Behind this I find the expected dusty notes, leather, coffee and walnuts, as well as mentholated hints. Charred oak. Plenty of tobacco leaves, pleasant hints of humid cellars in Jerez. Clean and simply really good.
Mouth: a deeply earthy and smoky side now, which combines nicely with the tobacco flavours and muddy / foresty notes. Syrupy cherries, drops of cough syrup, cocoa and liquorice. Subtle farmy notes. Dark chocolate mousse with salt flakes (great combo). All in all, a good mix of darkness and brightness. Some burnt wood and still a whiff of rubber perhaps, but I find this cleaner and more enjoyable than last year's Kilkerran 8 Years Oloroso version.
Finish: long, smoky, with more liquorice and char.
A really good sherry cask version of Kilkerran. This whisky is never entirely clean, but with this kind of sherry influence you get a compelling combination of Jerez aroma and peaty character. Lots of fun.
Kilkerran 8 yo Cask Strength – Port Cask Matured (57,9%, OB 2022)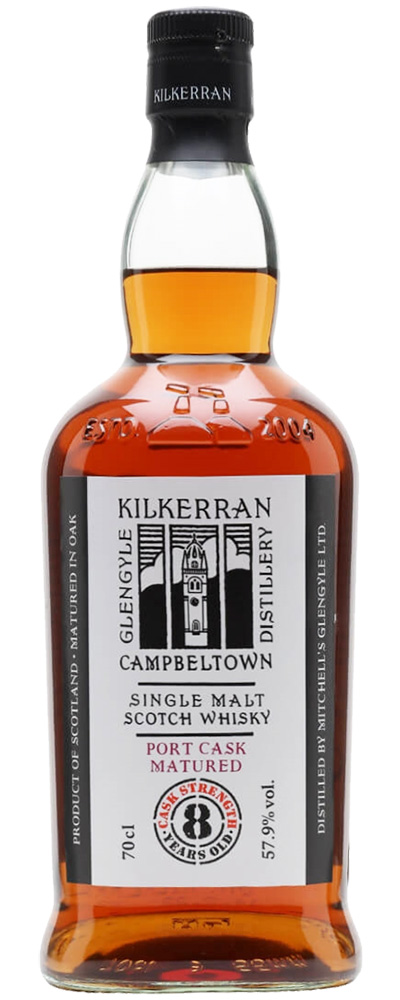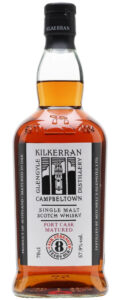 Nose: a lot more winey and funky, which means strawberry jams and morello cherries, but also flinty notes, damp leaves, engine oil and wee dirty notes. Plenty of soy sauce, even a few drops of pungent fish sauce and balsamic vinegar. Old leather. Then hints of peanuts, earthy smoke and coffee. Some herbs in the background.
Mouth: even more smoky than the sherry version, with more funky and farmy notes. Lots of cooked fruits, Cherry Heering, raisins and chocolate, but also meaty notes, all-spice and capsicum. Big caramel and treacle. Lastly some coffee and wine tannins too.
Finish: long, spicy and winey, with chocolate and nutmeg.
Interesting combination of savoury and sweet notes, with a big dose of Kilkerran funk and a dirty edge. Not bad, but not a style that I'm fond of. In this direct comparison the sherry outclasses it in my humble opinion. Score: 82/100