After my Amrut Triparva review I picked up a lot of good feedback and perhaps a renewed interest from whisky lovers who hadn't tried Amrut whisky in a long time.
I decided to pick up a few extra samples, including the Amrut Madeira Finish, matured in ex-bourbon casks and given quite a lengthy finish in Madeira casks sourced from cooperages in Portugal and Spain.
Recently another sample ended up on my desk of an Amrut 2015 single cask bottled exclusively for Kirsch Import in Germany. This too was a an ex-Madeira cask but a peated spirit. A sister cask #4710 was release in Taiwan not so long ago.
Amrut Madeira Finish (50%, OB +/- 2018, 4800 btl.)
Nose: nice start on almonds and brown sugar, mixed with spiced honey and candied ginger. Orange peels, peaches, light hints of mango. There's a slightly sharp winey edge but other than that, this is rather balanced. Some vanilla and mint too.
Mouth: quite sweet and oily. Mango syrup, orange candy, juicy mirabelles and cooked apples. Slightly tropical but the fruits quickly make place for drier elements. Ginger cake, leading to roasted / nutty flavours, earthy spice (a little nutmeg and liquorice) as well as tobacco leaves. Walnuts. Still some honeyed sweetness in the background.
Finish: long, sweet and spicy, with plenty of nutty dryness.
As a first Madeira experiment this works out really well, although I should add that the typical (often tropical) fruits are pushed aside and the oak spice is taking center stage. Still available from The Whisky Exchange for instance, although it seems a lot cheaper on mainland Europe.
Amrut 6 yo 2015 Ex-Madeira Peated (60%, OB for Kirsch Import 2021, cask #4711, 200 btl.)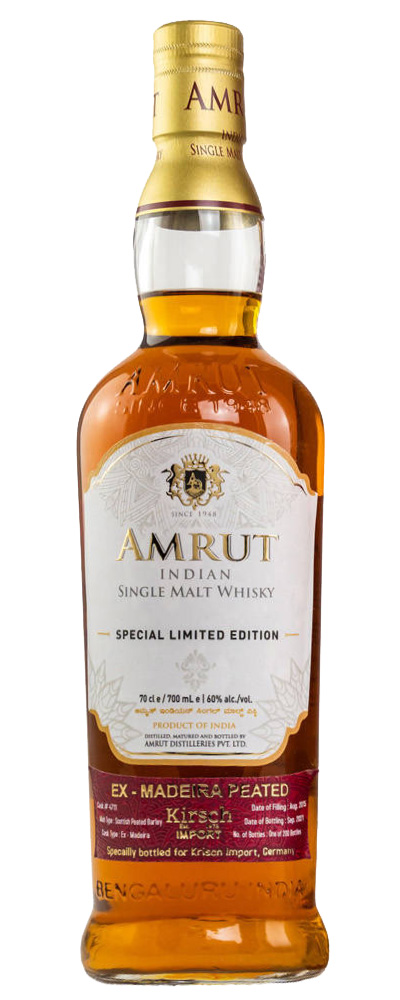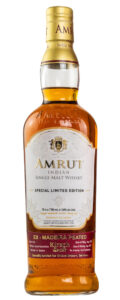 Nose: a slightly musty start, like worn leather and old casks in a cellar. Some charcoal and barbecue ashes in the background. Also meaty notes, like smoked ham or a simmering beef stew. Dried mushrooms. Then it becomes slightly more classic, with plenty of nuts, cinnamon and dark chocolate. Not entirely free of sulphur either.
Mouth: really punchy. A lot of peat smoke, with medicinal notes, dried herbs and tobacco. It becomes increasingly hot, starting with black peppercorns and ending with chilli and curry spices. Hints of burnt rubber. We find hints of chocolate and prunes but none of these exotic fruits that are so typical for Amrut.
Finish: long, with deep smoke, drying leather and hints of bitter herbs. Still too peppery.
The jury is still out. It tries to show a pressure-cooked smoky character (Islay style), but it pushes aside the innate fruity character of the spirit and also the Madeira sweetness to a certain extent. Believe it or not, I think the general Madeira Finish is more balanced. Available in Germany for around € 160. Score: 83/100