Whisky Facile is a well respected whisky website from Italy, started by Jacopo and Giacomo, now joined by other drinkers writers as well. In 2021 they started their own series of whisky bottlings (as a 10th anniversary celebration for the blog, if I'm not mistaken), with beautiful labels that quickly caught my attention because of their nice colour schemes, surprising shape and intruiging quotes.
We're trying two older bottlings: Aultmore 2010 and Glen Elgin 2008 (both sold out) as well as their brand-new undisclosed Orkney 2008.
The Aultmore was matured for 3 years in a sherry butt, followed by 7 years in a sherry barrel (!) provided by González Byass.
Aultmore 10 yo 2010 'My name is nobody' (51,2%, Whisky Facile 2020, Sherry butt + PX sherry barrel #9918001, 159 btl.)
Nose: raisins, hints of dried pineapple and cherry biscuits. After the initial fruity notes it gets earthier and spicier. Gingerbread, hazelnuts, hints of brown sugar and cold coffee. A wee sour note of wet tobacco. A bit of musty oak as well. This went in different directions.
Mouth: the cherries are back, now more as Ginjinha and plum eau-de-vie. There's also fruit tea, more leafy notes and more sourness (red berries). Hints of Seville oranges, walnuts, bitter chocolate and cloves. It comes rather close to an old sherry brandy, although it lacks the sweetness and the body they tend to posess.
Finish: long, but really drying, with a harsh side. Sour wood and lots of roasted nuts.
I wonder how / why they came up with a sherry barrel in the first place, and why they would use that to replace the butt. Anyway, this reeks of sherry wizardry and it's not entirely succesful in my opinion. Sold out.
Glen Elgin 12 yo 2008 'I offer you centuries of light' (56,5%, Whisky Facile 2020, refill bourbon hogshead #653, 180 btl.)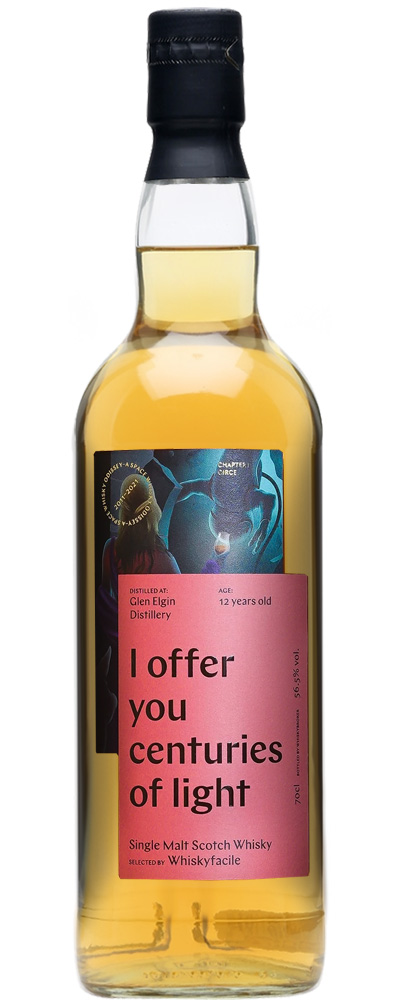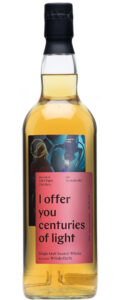 Nose: slightly oily, with plenty of yellow apples, ripe gooseberries, some cidery notes and grapefruits. Lots of falling leaves and drying grass, as well as a light honeyed note in the background.
Mouth: a remarkably waxy texture now, with the kind of oiliness that you'd expect in much older Speyside whiskies. More apples, quinces, some melons, sweet citrus and hints of toffee and vanilla cream. It's no fruit bomb but it does have a ripe, juicy note in the middle. There's a light peppery note and a polished woody note, which works really well.
Finish: medium long, still quite rounded and fat, with vanilla, hay and citrus.
This is a classic Speyside profile that could trick into thinking it was double the age. Well matured whisky that needs some time to open up – it will reward you with nice fruits and waxy notes. Reminds me of the Whisky Exchange bottling of late. No fuss, high quality. Score: 88/100
Orkney 13 yo 2008 'Mortals do you think we are?' (50,1%, Whisky Facile 2021, refill bourbon hogshead #66, 293 btl.)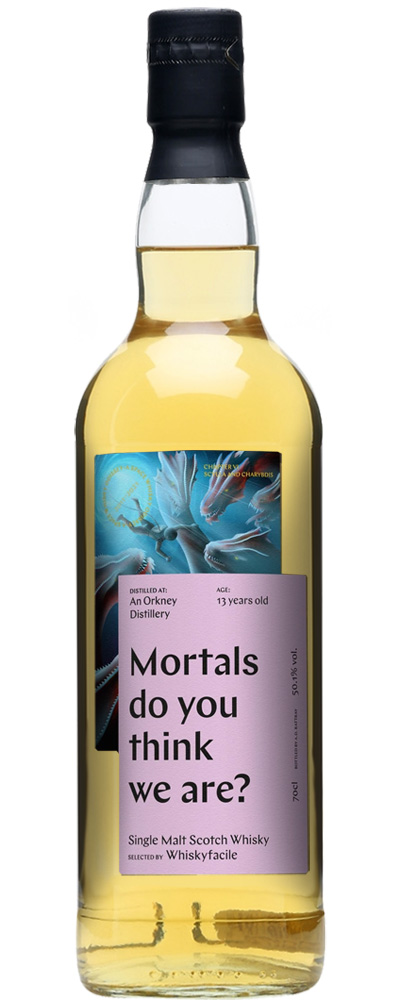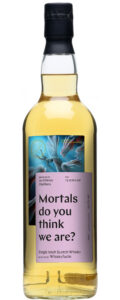 Nose: a fairly gentle profile. Hints of chalk, wet pebbles, lamp oil and limoncello. Some gristy notes and very distant smoke. Sweet lemons and rhubarb too. Less powerful than I expected, but that's not a bad thing.
Mouth: really close to the cereals now. More grist. The smoke is slightly bigger now, showing some burnt heather and a wee rubbery note. Plasticine. Light honey. Mineral oils and paraffin, as well as some citrus zest. A salty edge towards the finish.
Finish: medium, on chalk, wax and hints of pepper.
The label mentions the sea monsters Scylla and Cariddi, but this is no monster. It's quite gentle, aromatic and waxy. Nicely different amidst the overload of undisclosed Highland Park releases. Still available from the Whisky Facile shop. Score: 87/100