After our first big armagnac session in January it quickly became clear we needed to do another one. This time we only have independent bottlings by Swell de Spirits, Decadent Drinks and Grape of the Art.
Before we dive in, let me add that they're all bottled at cask strength, even the first one which is only 43% ABV.
Domaine de Baraillon 1987 Bas-Armagnac (43%, Swell de Spirits 2021, 150 btl.)
Nose: really aromatic. Plenty of precious woods, cigar boxes, sesame oil and resinous notes. Also prunes, figs and raisins, as well as baked bananas with Demerara sugar. A slight balsamic note. Chestnut honey and leather. Very classy.
Mouth: rather woody. It's a bit like chewing cedar wood, with a feeling of resins, tobacco juice and a leafy sourness. Cocktail bitters. Then over-infused herbal tea and a clear medicinal side (menthol). Liquorice, olive brine, leather and cold espresso in the end.
Finish: long, sour and herbal, with hints of rancio, liquorice roots and drying exotic woods.
So yeah, the nose was great but on the palate it goes over the top in terms of woodiness. I can see why it was selected, but this spread stance makes it hard to score. Sold out.
Our second armagnac was the first bottled by Decadent Drinks. It is a 35 year old bottling, created from a mix of 64% 1985 Bas-Armagnac with 36% 1963 Ténarèze Armagnac, bottled at cask strength.
Armagnac Sponge I 35 yo (51%, Decadent Drinks 2021, 200 btl.)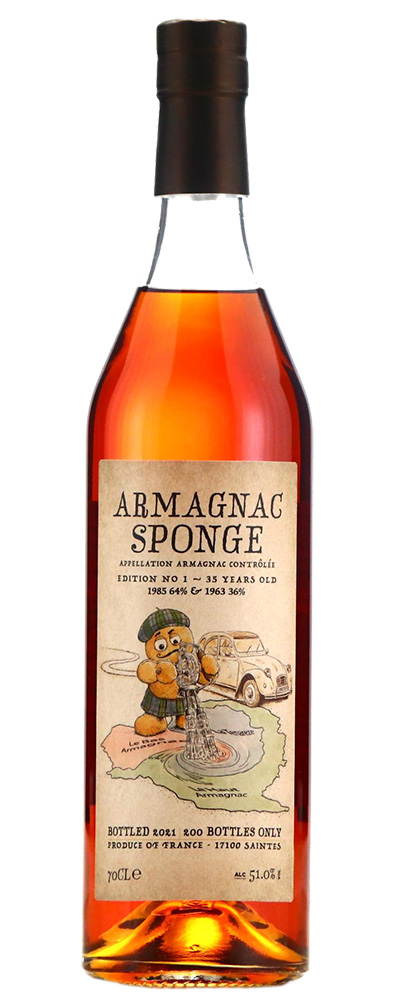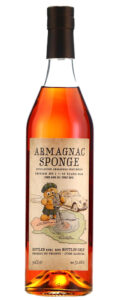 Nose: a bit more docile, or elegant if you like. I get a hint of Palo Cortado here, with walnuts and hazelnuts, as well as leather, earthy truffle notes and a hint of milk chocolate. Baked apples, orange peels and raisins. Hints of prunes too.
Mouth: same feeling of elegance, with a prominent minty theme, baked bananas and stewed peaches. Also hints of tobacco and truffle again. Raisins, plum jam and liquorice. Nicely balanced by the right amount of polished wood.
Finish: long, still quite minty, with raisins and plums and light tobacco notes.
Very good, this is on the same levels as high-quality cognac, combining elegance and a certain robust and rustic charm. Maybe the least typical armagnac of this session. Also sold out. Score: 88/100
The next one is Domaine Séailles, bottled by Grape of the Art, a German collective which was probably the first to focus on independent armagnac bottlings (although they now moved into rum and cognac). This is ugni blanc distilled in an alamabic armagnacais (a column still). More info on their website.
Domaine Séailles 20 yo 2000 (54%, Grape of the Art 2021, cask #19, 195 btl.)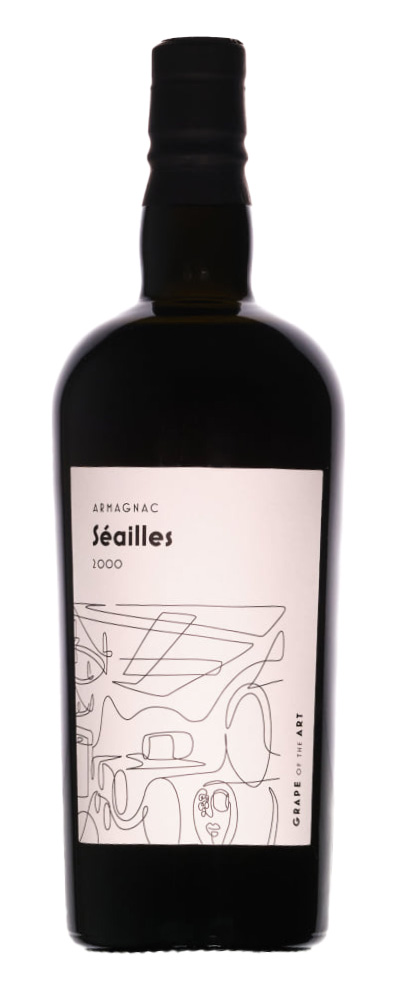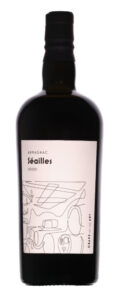 Nose: quite fruity after the others. More vanilla as well. I get cherries, lemons, peach jam and orange peels. Subtle acetone / glue as well, I don't mind. Then back to butter biscuits and brown sugar, as well as prunes and tobacco. A bit more reserved than the other two.
Mouth: full-bodied now, richer than expceted from the nose. There's thick caramel with chestnut honey and hazelnuts. Also rancio notes and over-infused fruit tea. Tobacco leaves. Hints of grape syrup and marzipan too. A pleasant sourness keeps it in check, so it doesn't become bloated.
Finish: long, with hints of cedar, plums, mint and liquorice.
A bit thicker than the others, with a robust, almost rustic style. In a way this is a blend of the Baraillon and the Decadent bottling. Power and elegance combined, well done. Sold out. Score: 88/100
The last armagnac was also bottled by Grape of the Art. This comes from the Encantada cellars. Considerably younger, but equally interesting. More info on their website.
Le Frêche 13 yo 2007 Bas-Armagnac (57%, Grape of the Art 2021, 150 btl.)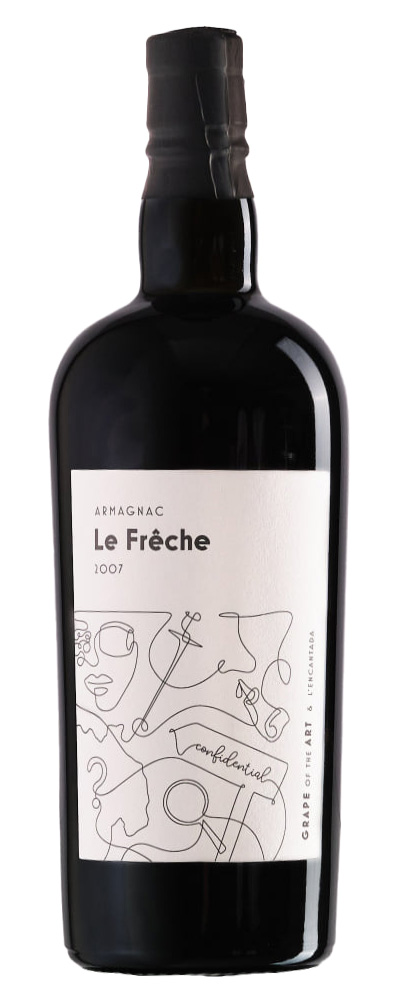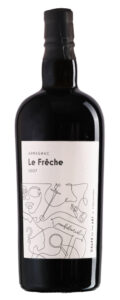 Nose: quite robust again, with caramel and plummy notes, dried wildflowers and fresh peonies, peaches and chocolate coming out. Dense nutty notes and leather, forest fruit jam and sweet berries. A very subtle balsamic edge too.
Mouth: unexpectedly dry and herbal. We get liquorice, nutmeg with a lot of eucalyptus and menthol. Punchy oak spice, a bit too much perhaps. There's a slightly funny floral note underneath (juniper?), almost perfumy (jasmine?), as well as some incense. Plums and grapes after a while, with baked bananas, chocolate coated raisins.
Finish: very long, still quite floral, now more oaky (including a bitter edge) with berries and burnt caramel.
A nice armagnac, showing some uncommon floral touches as well as a firm woody / charred note. Quite nervous, perhaps because of its youth, but interesting nonetheless. Sold out. Score: 86/100