The Thompson Brothers got their hands on a whole series of Islay single malt casks from an undisclosed distillery. Today we're trying five casks, with spirit distilled in 1989, 1990, 1991 and 1992. Some of the other casks from this batch have appeared here before.
Laphroaig, I hear you whisper? Yes, that would be our guess too, especially if you look at the hints on the last bottle. All of these casks are said to be blending stock from Allied Distillers.
Islay Single Malt 30 yo 1990 (49%, Thompson Bros 2021 for The Nectar 15th Anniversary, refill barrel, 250 btl.)
Nose: it's impossible not to like these casks. This is a warm, fine nose with gentle, medicinal smoke, a good dose of vanilla cake and almonds, hints of plaster, sunflower oil and seaweed. Smooth smoky notes, as well as lightly tropical fruits (roasted pineapple and banana), spearmint and dusty fabrics.
Mouth: really oily and waxy, with a slightly bigger smoky fingerprint, balanced wood spice and medicinal notes. Seashells. Hints of apple, apricot and vanilla. Lime and lemon. Then back to charred oak, with a herbal sharpness as it fades.
Finish: quite long, on sweetened herbal tea, citrusy and salty peat, black peppercorns, light floral notes and cardamom.
Great start of this session, this will be a good benchmark. Entirely as expected: a very mature, refined and rounded Islay character. Excellent balance between the peaty core and fruity waves.
Islay Single Malt 31 yo 1990 (49,3%, Thompson Bros 2021, two refill barrels, 464 btl.)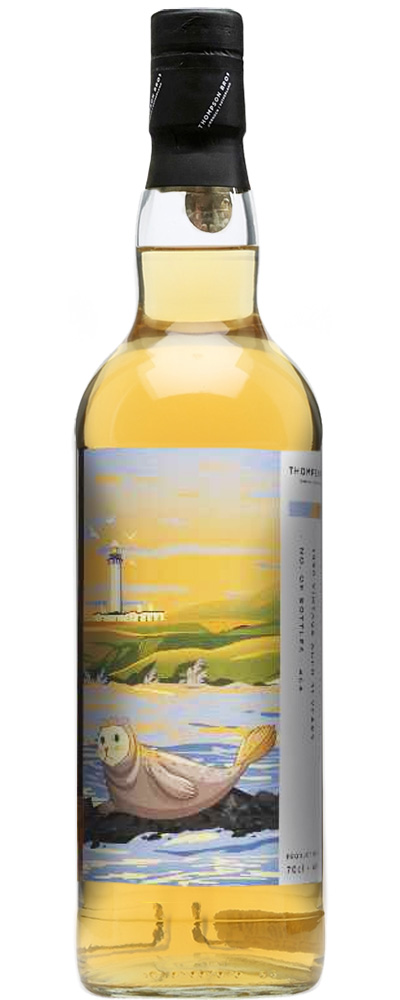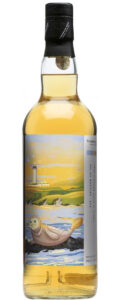 Nose: starts a little less waxy, more on peppery spice and leather. Salty air with a light prickle. Still some vanilla, but the citrus fruits and medicinal notes spike above it. Iodine. Hints of peach in the background.
Mouth: a similar impression. It's much more citrusy, with lemons and seabreeze, as well as more prominent antiseptics. A light grassy touch before it turns towards pear and peach. More 'vertically peated', showing little smoky warmth this time. It feels just a little younger than the previous bottling.
Finish: a bit longer now, still focusing on herbal and coastal elements.
Also very good, albeit a tad sharper and medicinal, lacking some of the roundness and waxy character that I like in these old Laphroaigs. The least expressive of this series, was that the reason for combining two casks? Score: 89/100
Next up is a bottling exclusive to HNWS (Home Need Wine&Spirit), a Taiwanese shop and independent bottler owned by Tony Qiu.
Islay Single Malt 30 yo 1991 (50,2%, Thompson Bros for HNWS Taiwan 2021, refill barrel)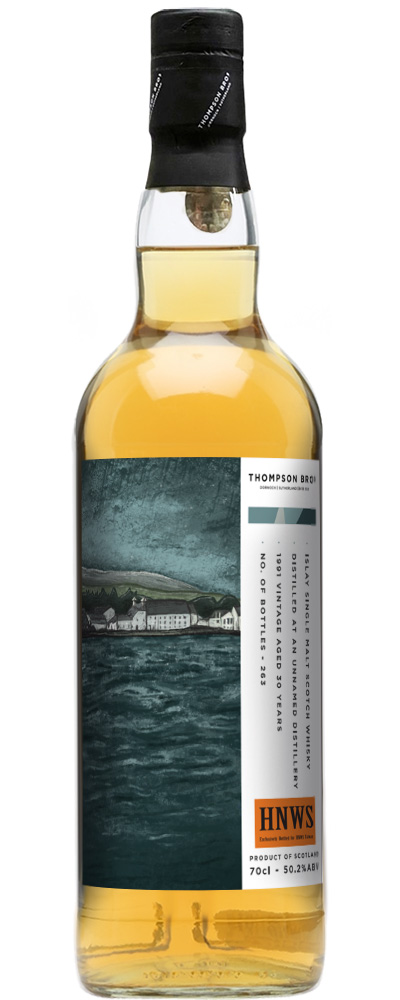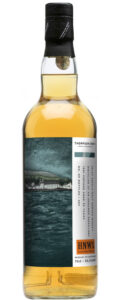 Nose: more fruits again – acidic kinds like green apple, lime and unripe pineapple. Vibrant but a bit greener. Fruit tea. Thin smoke again, hints of hay, spearmint and eucalyptus. Herbal ointments. Always a bit of vanilla too.
Mouth: really good, with a creamy character, waxy notes and polished oak, but also a nice hint of roast mocha and crushed peppercorns. Behind this is that citrusy top note (lime) and a green but almost tropical fruitiness.
Finish: long, still showing this bright and vibrant citrusy side, with waxy notes and pepper.
Certainly on the same level as the Nectar bottling, with a similar balance between coastal Islay notes and the rounder, polished hints of age. Possibly the highest complexity of them all. Score: 91/100
Unknown Islay Single Malt 31 yo 1989 (52,1%, Thompson Bros for Kirsch Import, 250 btl.)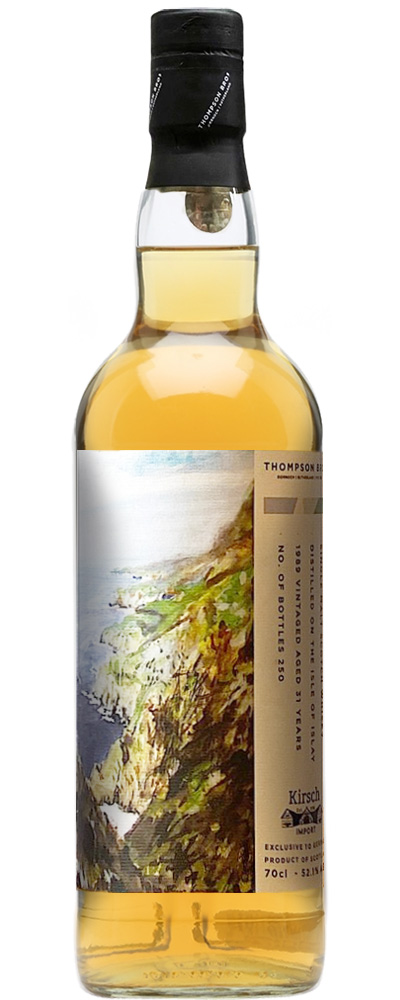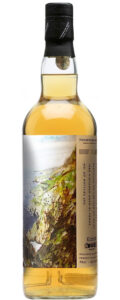 Nose: rapeseed and plasticine stand out now, alongside oak polish and marzipan. More floral smoke, mingling with herbal teas, sage, plain brine and mussel shells on the beach. More kippery notes too. Overall more coastal again, with the fruity notes (pears) in second row.
Mouth: vibrant zesty citrus, with a bigger salty note again. Bright citrus in the middle, mostly (pink) grapefruit now. Also mango. It seems to have a (barbecued) meaty hint before it turns to gentian, olive brine, green herbs, leather bound books and abundant sea minerals.
Finish: long, with resinous notes, seared lemons and slightly bitter herbal notes.
I've said this before, but I think juxtaposing so many similar drams makes you exaggerate the differences and stretch the scores further apart. Because finding differences is the point of comparing them, right? This one is intensely coastal but also manages to squeeze a lot of citrus fruits. Score: 90/100
In case you were still looking for confirmation for the name Laphroaig, the next WhiskySponge bottling has more than enough clues, including a picture of Wessie Billiamson, the mention Marcelect Special (referring to Marcel Van Gils) and the Dutch phrase De mooie inham bij de brede baai which translates as 'the beautiful hollow by the broad bay'. On the other hand it does contain a few misleading elements like Port Ellen's foundation date and the Ardbeg building…
Islay Single Malt 28 yo 1992 (52,5%, WhiskySponge 'Marcelect Special' 2021, two refill barrels, 518 btl.)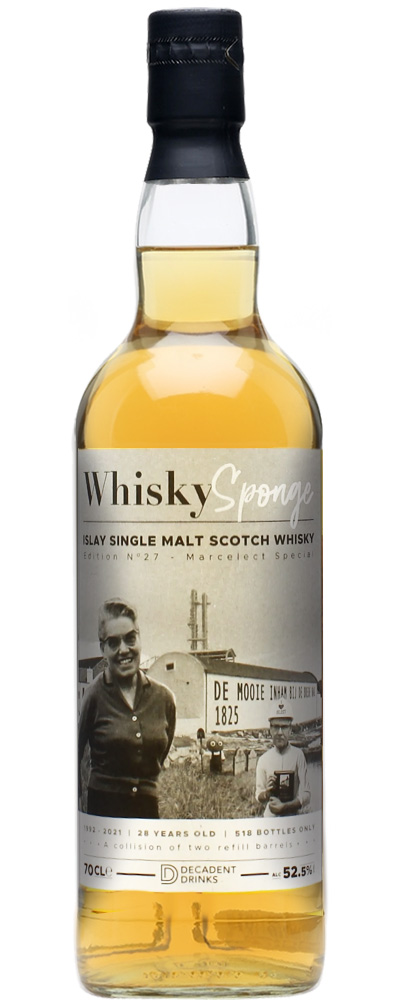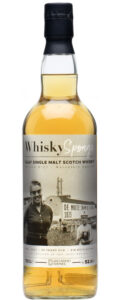 Nose: some degree of fruits, now mainly ripe banana and green mango, but more on coal smoke (making it seem younger) and maritime notes again. Dried seaweed. Ashy notes with hints of walnuts, pine liqueur and a mossy hint in the back.
Mouth: sweeter, creamier and quite fruity. Sweet lemons and bright oranges. Hints of honey and light pineapple. A clear bourbonny footprint. Gentle peat, herbs and briney notes showing up towards the end. Perhaps a little simpler now than the others, although it could also be the stronger heat.
Finish: long, with maritime smoke, zesty notes and herbal tea.
I really like these casks, they're such a safe bet. They're closely together and the differences come down to personal preferences. Like, do you want more fruits or more coastal Islay character? This one is really good but not the fruitiest. Score: 89/100