Cotswolds Signature Single Malt Whisky is produced from locally grown, traditionally floor-malted Cotswold barley. The Signature expression combines maturation in highly active STR red wine barriques with whisky from first fill ex-bourbon barrels. The resulting whisky is around 4 years of age.
Cotswolds Signature (46%, OB +/- 2022, 6200 btl.)
Nose: very fresh and fruity. Green apples, gooseberries, honeydew melons and peaches, with vanilla and bright malty notes. Nice floral honey. Then hints of lemongrass and fresh oak shavings. Light footed, it reminds me of anCnoc 12.
Mouth: still fruity, showing more sour apples, bananas, peaches, lemon meringue and vanilla custard. There's a slightly astringent winey / varnished side to it that seems a little out of place. The youthful heat is showing as well. Then hints of marmalade. Pepper and clove.
Finish: medium length, sweet and spice with fresh woody notes.
The nose left a really nice impression, but on the palate it feels a little unharmonious. Really not bad though. In fact slightly better than the Cotswolds Odyssey Barley I tried a while ago. Available from The Whisky Exchange for instance (also samples).
Now we move to an Oloroso sherry cask, filled in 2016 and exclusive to Kirsch Import.
Cotswolds 6 yo 2016 (59,9%, OB for Kirsch Import 2022, Spanish Oak Oloroso hogshead #722, 297 btl.)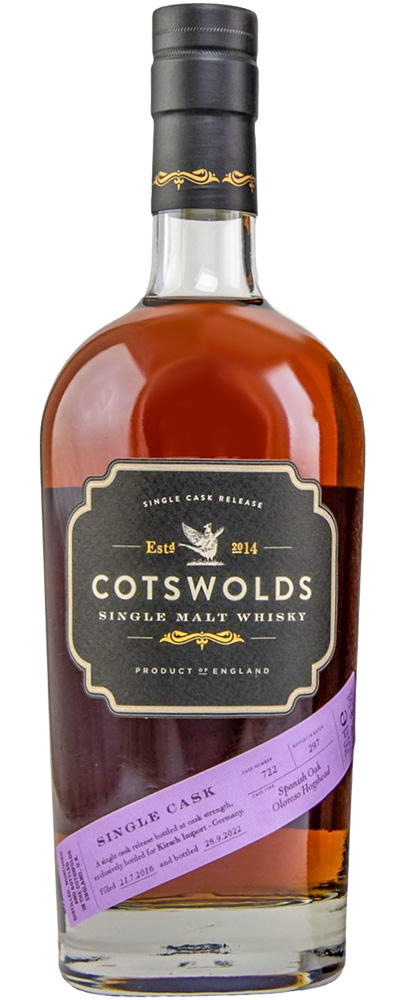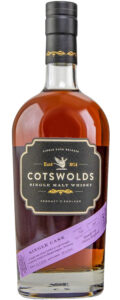 Nose: fragrant raspberry jam and peach compote, with hints of cassis, prunes and some Cherry Heering. Subtle whiffs of rose petals. Darker toffee, coffee and caramelized nuts follow. Dates and marmalade, as well as some vanilla cake. Modern, slightly liqueurish, but fruity and clean.
Mouth: quite hot and thick, with more of these syrupy fruits like cherries, raspberries, caramelized apples and blackcurrants. You feel some fresh woody notes as well. Cinnamon, pepper, roasted almonds and hazelnuts. Then hints of coffee too.
Finish: quite long, with a little gingery heat, more coffee, caramelized nuts and dark stone fruits.
Quite a nice, active cask. Good as it is, even though the complexity drops on the palate. The aromatic nose is the best part. This just arrived in plenty of German stores for around € 100. Score: 84/100