We head over to Australia for this Starward 2016 single malt whisky. It was bottled for The Nectar in Belgium and Kirsch in Germany.
The front label says matured in an American oak red wine barrel but if you read the back label they also state it was given an extra finish in a charred American oak hogshead. Usually the finish is getting more attention, but here it's the other way round. No details about the ageing periods though.
We put it against a second Starward 2016 bottled exclusively for La Maison du Whisky, from a first fill Apera cask – Australia's fortified wine which they used to call sherry until 2010, made in a solera and usually from palomino grapes. We already had a second fill Apera release bottled for TWE.
Starward 4 yo 2016 (58,9%, OB for Germany + Belgium 2021, Barossa Valley red wine barrel #6850, 396 btl.)
Nose: heavy on the oak at first (cedar wood, grass) with a light whiff of estery glue. Later it turns to vanilla marshmallow, a little coconut cream and a very jammy kind of fruits (peaches and apricots above all). Not bad but it feels closer to a grain whisky so far. Cinnamon, hints of leather. A bit of water helps to highlight the fruity notes.
Mouth: now the fruitiness comes out even more. There's mango, grilled pineapple and berries. Still a heavy dose of minty fresh oak. Later also ginger and grapes. Hints of aniseed. Water is really critical here, it makes it a lot creamier and fruitier.
Finish: still fruity, but showing more leather and some dry leafy notes in the very end.
There's more charred American oak character than red wine, I'd say, and the aromatic, fruity core is really nice. It fails to come out entirely at full strength though, so water is a must. Score without water: 84/100. Still available from several retailers, including The Bonding Dram.
Starward 5 yo 2016 (52,4%, OB for La Maison du Whisky 2021, first fill Apera cask #1870, 240 btl.)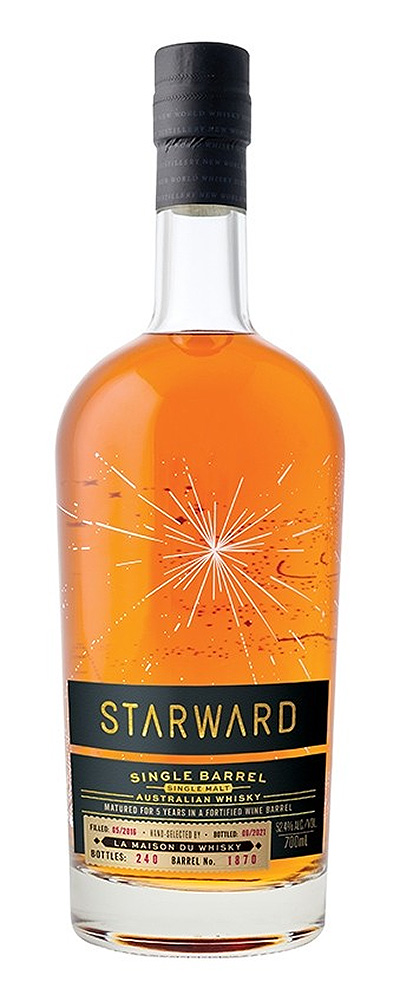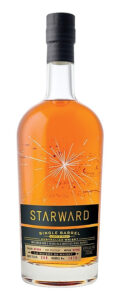 Nose: similar in the sense that it still shows this woody side. Apricots and oranges again, now with added milk chocolate, latte and more cinnamon. Wee hints of herbs.
Mouth: plays in a darker register than the red wine barrel. Quite some oak char now, with menthol and bitter herbs. Grapefruit peels, bay leaf, cedar wood and juniper. Nutty notes, mainly walnuts and bitter almond. Drying tannins, herbs and gingerbread while it fades.
Finish: quite long, really dry with ginger and cinnamon, as well as some tobacco leaves.
While the German / Belgian cask found a certain balance between wood and fruits, this is out of bounds for me. Wood juice. Still available from LMdW. Score: 76/100