Last week we had an interesting Nordic whisky session, today we focus on whisky from France. In less than ten years, French production has quadrupled, with over one million bottles filled each year and over 80 active distilleries. They even have two protected geographical indications (Brittany and Alsace).
Obviously La Maison du Whisky is promoting French whisky, and not so long ago they had a curated set of samples which is at the base of this session.
We start with Eddu, made at Distillerie des Menhirs in Bretagne. This is pure buckwheat whisky. We're trying the oldest release ever from the house, distilled in 2004 and matured in an ex-cognac cask.
Eddu 17 yo 2004 (49%, OB for LMdW 2021, ex-cognac cask, 392 btl.)
Nose: very fresh and aromatic, with a high-pitched citrus note, then unripe pears,  tangerines and hints of banana yoghurt. It shows a floral, almost perfumed side as well, evoking fresh laundry. I do detect some cognac elements in this. Whiffs of white pepper and ginger in the background, alongside herbal hints of sage.
Mouth: again a fragrant, even slightly perfumed profile. Green apples and pears, lemon peels and floral honey. Then a bitterness sets in, between herbs and grapefruit zest. Lightly resinous notes too. Some salted caramel and coffee notes appear in the end, leaving a darker impression. Quite complex, despite its quirky side.
Finish: medium, on lemonade, Earl Grey tea and a light medicinal note.
Interesting whisky that is hard to pin down. I'm still trying to decide whether I find the perfumed notes beautiful (on the nose) or disturbing (on the palate). The cognac feels a little 'on top' as well. That said, nice whisky to spend an evening with. Still available from The Whisky Exchange for instance.
The next one is a single malt whisky produced at the Ninkasi brewery / distillery (around Lyon). It was aged in a Vin Doux Naturel cask from the town of Rasteau (Southern Rhône). These sweet wines (most of them rosé from Grenache grapes) are similar to the ones from Rivesaltes or Maury for instance, with a characteristic "maderized" rancio effect. After that, it spent 10 months in a heavily toasted French oak barrel.
Ninkasi 4 yo 2017 (49,5%, OB 2021, Rasteau VDN cask + heavy toast finish #22, 342 btl.)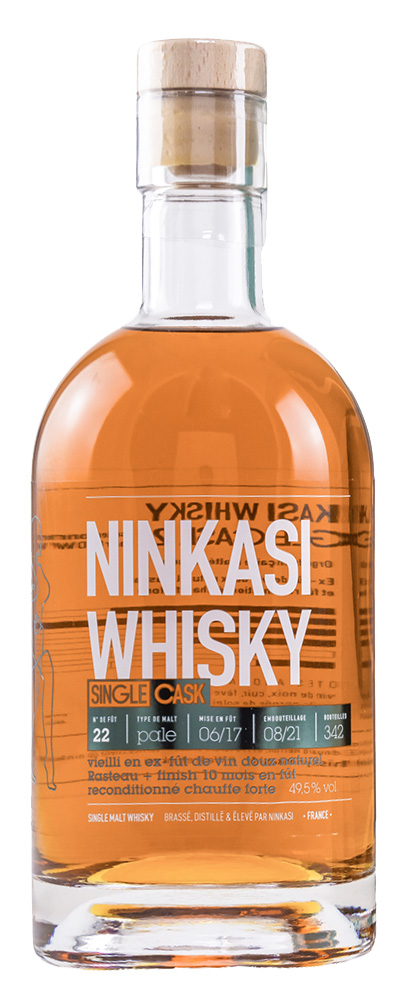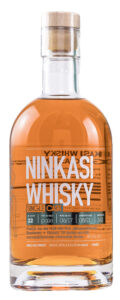 Nose: quite sweet and rounded, with ripe grapes, peaches and cherries. Aromatic raspberry jam. Hints of panettone and caramel, with light oxidative notes. Walnuts, gentle grainy notes and white pepper as well.
Mouth: more grainy now. More simple as well. Hob nobs, vanilla cake, berry sweetness and raisins. Some elements of a Scotch grain whisky as well – the mix of vanilla, leather and new wood. Peaches and red fruit jam.
Finish: quite long, still grainy, with added spicy hints, liquorice and a floral minty touch.
Overall this spirit is less unique than the one from Eddu, but on the other hand the Rasteau cask works quite well. The French equivalent of Waterford whisky in a way, with less emphasis on terroir of the barley, I guess. Sold out but LMdW is now selling the Small Batch Edition 2022. Score: 82/100
Now Alpenglow 2015 (from a small town in Rhône-Alpes) initially matured in an ex-Oloroso cask and finished in a Pineau de Charentes barrel.
Alpenglow 2015 (50%, LMdW 'Version Française' 2021, Oloroso + Pineau de Charentes cask #20, 396 btl.)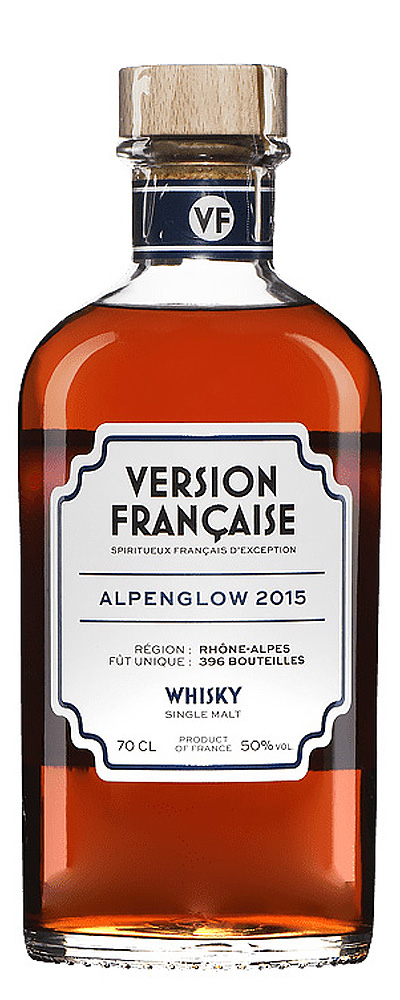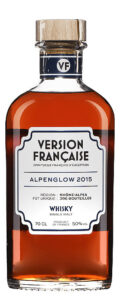 Nose: heavy wood aromas (pine) but also gentle peaty notes. Cold ashes, mentholated notes and iodine. The base notes are caramelized nuts, toffee, gingerbread and blackcurrants – that's the Oloroso talking. Black peppercorns and heather honey as well.
Mouth: really sweet. Oloroso with Pineau gives us Pedro Ximénez apparently. Cassis, chocolate and honey, with stewed plums and strawberry jam. Then smoky notes and pinewood again, with sweet herbal notes, chestnuts and a tobacco sourness towards the end.
Finish: quite long, with more tobacco, candied ginger, sweet herbal tea and a hint of coffee.
A very rustic whisky, slightly overtaken by the casks and the avalanche of sweetness. Not exactly refined, but the peat & sherry combo is quite successful. Still available from TWE. Score: 84/100
Distillerie de Paris 3 yo (52,5%, OB 2021, Chestnut cask finish, 50 cl)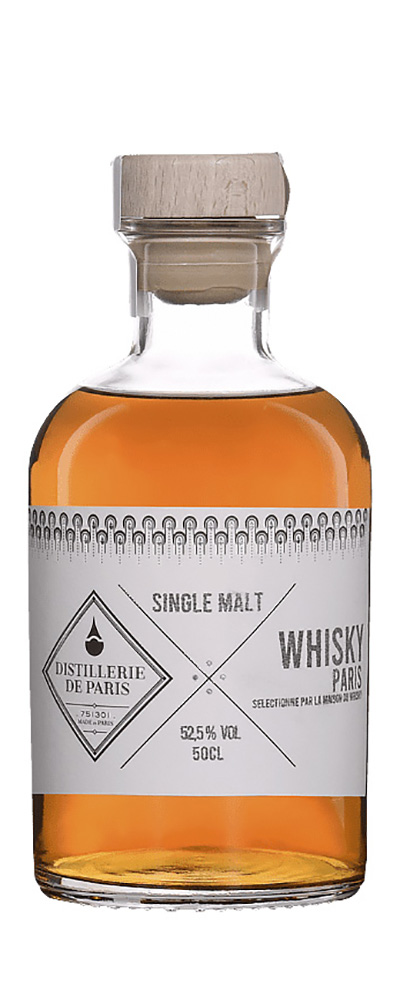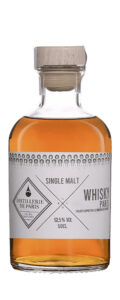 Nose: ouch, that's a lot of chestnut. Instead of the vanilla of American white oak, this gives you a warmer, musty and lightly mustardy smell. Somehow it reminds me more of dusty cupboards and cardboard than classic white oak. Also hints of linseed oil, tamarind, wet hay, pecan nuts and green walnuts. However the dustiness prevails.
Mouth: starts sweet and spicy, with ginger, cinnamon and liquorice. Then it becomes really floral, with hints of juniper, gentian, lemon peels, coriander seeds and star anise. Very gin-like (they also produce gin…), mixed with some rye notes.
Finish: quite long, with mint, lemon, herbal liqueur and anise.
If Scotch whisky is the center of the single malt world, then this is the furthest I've drifted off in a very long time. Pure witchcraft. A crossover of whisky, gin and wood juice. Intresting spirit, but not entirely convincing in the whisky paradigm. Score: 79/100
Domaine des Hautes Glaces 'Flavis' 2016 (58%, OB for LMdW 2021, Vin Jaune cask, 294 btl.)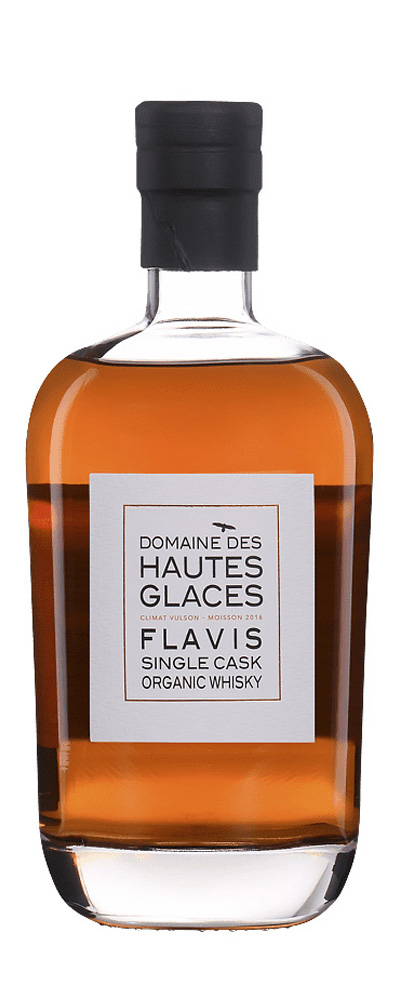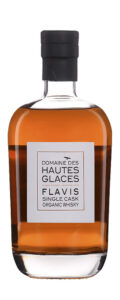 Nose: ouch, that's a lot of caramel. Werther's Original. Butterscotch and white chocolate latte. Then caramelized apple, butter croissants and brioche. Beurre noisette. Mazapán de Toledo. Porridge, toasted wood and gentle spice.
Mouth: big and fairly oily, with a slightly aggressive, rough edge. There's the acrid dryness of the Vin Jaune, with aniseed and caraway seeds, as well as walnuts and hazelnuts. Some candied citrus peels and Mediterranean herbs.
Finish: medium long, with dark spice, hints of bitter chocolate and ginger.
Personally I'm not a fan of caramel. Neither in whisky, nor in desserts. That makes it hard for me to get over the nose. The palate is slightly rough and doesn't win me over either. Score: 80/100
This session was big fun. We may not have discovered any belters, but it's cool to widen your scope and consider the strengths of all these experiments. Whisky is a lot more diverse than what Scotland is offering, no doubt. On the other hand this French ensemble feels a little unbridled and has a few lessons to learn in terms of balance.