Today we're putting three Ardnamurchan whiskies against each other. They're all between five and seven years old, more or less.
The first one is a multi-vintage "signature release": Ardnamurchan AD07.21:05 which translates as batch #05, bottled in July 2021. This is a combination of peated and unpeated spirit (equal measures) with a cask distribution of 65% bourbon and 35% sherry. Most of the spirit should be around 5-6 years old.
Next up is a peated single bourbon cask bottled by the Thompson Brothers. We end this session with the first sherry cask I've tried from this distillery: AD/11:14 CK.339. This is a 2014 vintage.
Let's be honest here: I hate their numbering system. Imagine that instead of their usual name, you can only call people by their social security number from now on… Have you tried the latest AD/11:14 CK.339? Even if you understand what each number means (and why they have different formats for general releases and single casks), it's totally impractical.
Ardnamurchan AD/07.21:05 (46,8%, OB 2021, bourbon + sherry, 19.998 btl.)
Nose: an acidic start on green apple, like a tart Bramley apple cider (have you tried High Diver?), with lemon meringue and grapefruit peels. Raw dough, mash and rosemary on the side. Later some rounder notes come out, like vanilla, banana and powder sugar. Something phenolic / mineral in the distance, but the peat seems rather incidental. The sherry too for that matter.
Mouth: peatier (and sharper) now. A white peppery kick, hints of curry and some coastal notes (seaweed, brine). Later citrus kicks back (tart orange), with apples and some vanilla. The spicy and mineral core keeps building, with a grassy edge. Light savoury notes (tobacco) in the end.
Finish: medium, on pepper and mustard, with a vegetal sweetness in the back.
Solid whisky (as expected), as long as you don't expect a lot of peat or sherry. Still fairly young but well made and good value if you find it for the original price of around € 50. Sold out from major retailers, although local stores will still have a few bottles. TWE is still offering samples.
Ardnamurchan 6 yo 2015 (59,7%, Thompson Bros 2022, first fill bourbon barrel #356, 253 btl.)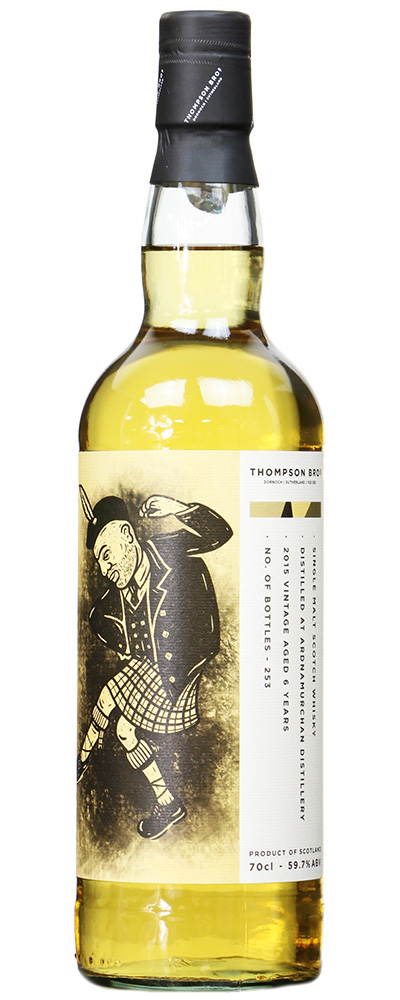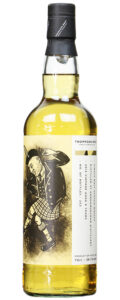 Nose: a very similar brightness and tart side. A lot of lemon juice, lemon candy, with hints of floral honey. Plenty of malty brioche notes. Hints of custard, green bananas, unripe pineapples and toffee as well. Light, perfectly clean and vibrant.
Mouth: sweeter and seemingly younger than the signature release. Just as good though, with heaps of malty notes and barley sugars, lemons and generous peppery white oak. A slightly floral edge. Sea salt and mineral notes. Talisker style, but still young.
Finish: medium, with more pepper, light brine and subtle hints of peat.
A high strength, naked version. Again this subtle peaty side which is more mineral than smoky. In the end the peppery notes are winning, but the spirit is high quality. This was a web exclusive at the Thompson shop, now sold out. Score: 86/100
Ardnamurchan 6 yo 2014 AD/11:14 CK.339 (59,4%, OB 2021, UK exclusive, Oloroso sherry cask #339, 665 btl.)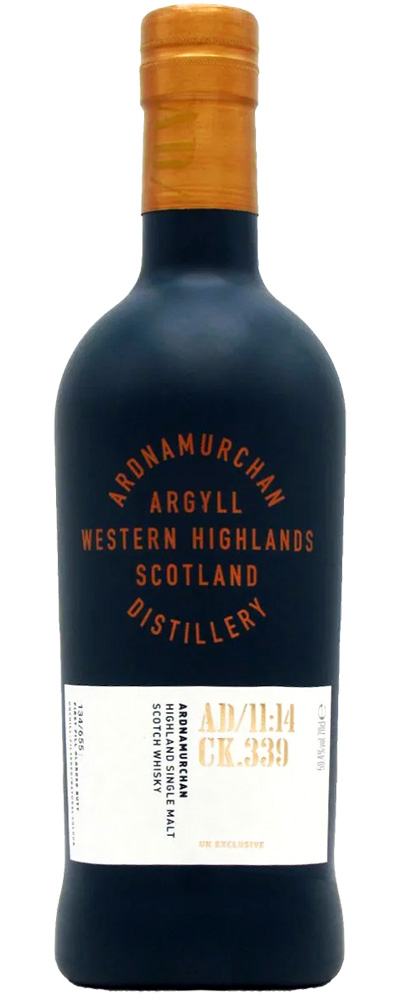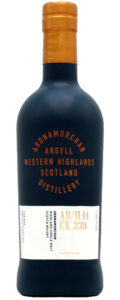 Nose: a modern, seasoned sherry style. That means dates and raisins, but also a varnished note, burnt vanilla and a young plain woody note (oak shavings). There's even an echo of a young bourbon whiskey (active wood). Then wine gums, Demerara sugar and toffee. Wee hints of parsley.
Mouth: similar thoughts. More of these gentle peaty notes, with a big peppery and salty side. Orange peels, raisins and figs. There's quite a burning edge to this, with some chilli and a green leafy note that amplifies it.
Finish: a bit short, but really warming. Still leafy and peppery.
Somehow the active wood influence make this seem the youngest of the trio. It's pleasant but I'm not entirely impressed with the pressure-cooked sherry style. Sherry casks simple need more time to shine? Still samples available from TWE. Score: 84/100