Decadent Drinks just announced a new series called NAS – short for Notable Age Statements. The reasoning behind this series is that age matters when it comes to fine spirits. Whether it is young or old, the knowledge of how long the spirit has matured is critical to drinkers and enthusiasts.
On the labels you'll find a rather prominent number indeed – the age is the largest piece of information by far. On the other hand the distillery name and vintage are much small than you'd expect. The colour tells you what type of spirit you're drinking: teal for whisky, red for rum, orange for armagnac and black for cognac. The first four bottlings in this NAS series will be released over the coming months.
Today we're trying two whisky releases. First there is a 30 Year Old Blended Malt aged in a sherry butt. This is vatted stock of numerous old Signatory cask samples and bottling ends, married in a fresh sherry cask. Some of the malts inside hail from closed distilleries and date back to the 1960s.
The other one if a 7 Year Old Ben Nevis drawn from a second fill sherry butt and bottled at 100° proof. This should prove malts can also be charismatic at a younger age. The next release will be a 58 Year Old Armagnac from Château de Gaube, due in November 2022.
Blended Malt Whisky 30 yo (45,4%, Decadent Drinks 2022, NAS n°1, sherrywood, 553 btl.)
Nose: a slightly ethereal profile with orange peels, resinous notes, rubbed flower petals and scented wax. Quite subtle, but really beautiful. Mint leaves. Light hints of nectarines and tangerines against a background of cigar boxes, shoe polish and dusty church attics. Subtle gorse flowers. This really takes you back to the 1960s, with none of the younger components disturbing the venerable old-style character.
Mouth: similar low-key fruits like tangerines and orange peels, with light hints of berries. There's quite a vibrant spicy note (ginger / pepper) along with herbal tea and subtle eucalyptus. Then a sourness sets in, showing tobacco and a hint of grapefruit. Light leafy notes, as well as some old woody character.
Finish: decent length, but slightly thin, on drying leafy notes, walnuts and dried herbs.
The recipe for this is totally wicked of course. Malts dating back to the 1960s, married with younger malts and aged in (refill?) sherrywood for many years. It's impossible to replicate. These undisclosed 1970s Speyside whiskies come close, but it feels even older. In this case I swear you can almost pick up an OBE effect – from a fresh bottle. A bit fragile here and there, but this has a totally unique charm. This will go on sale today from Decadent Drinks.
Ben Nevis 7 yo 2014 (57,1%, Decadent Drinks 2022, NAS n°2, second fill sherry butt, 328 btl.)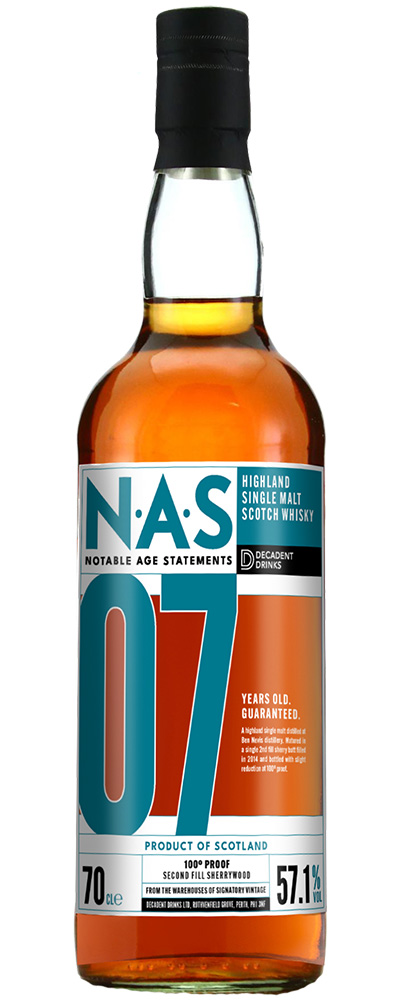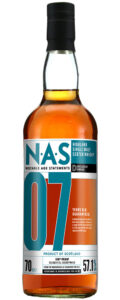 Nose: fudgy sherry on top of damp earthy notes and raisin pastries. The sherry is pretty clean – in fact the Ben Nevis spirit as well. Hints of hay and autumn leaves, oranges, dough and waxy notes. Echoes of lamp oil.
Mouth: quite assertive now. It's young but characterful. A tight combination of orange peels, drops of herbal bitters and engine oil. Then lemon juice and dark fruits, with a growing dry side of leather and chalk. A little oak char too.
Finish: long, still back and forth between charred spice, roasted nuts and waxed lemon skin. Some coffee as well.
Young Ben Nevis doesn't always work with sherry wood, but this is one of the better examples. Quite firm, but you can't accuse this whisky of being a dime in a dozen. Score: 87/100