I vividly remember the time when Ardmore was our go-to whisky if we wanted something peaty that wasn't from Islay. Back then their direct coal fired stills provided a really nice profile, different from the ones distilled after 2001. For a while it was pushed as the alternative for Laphroaig, but nowadays both are not as common as they once were from independent bottlers.
We're putting two Ardmore 1997 releases head to head. The first is the brand-new release from the WhiskyNerds, the other a younger version from The Whisky Agency, bottled some time ago for Animal Spirits in Singapore.
Ardmore 24 yo 1997 (49,6%, WhiskyNerds 2022, hogshead #901451, 258 btl.)
Nose: a typical lemony sootiness up front. Then bandages and medicinal herbs, the usual chalkiness and a very light metallic edge. Green fruits appear, like kiwi and Granny Smith, later also some grilled pineapple. Whiffs of old leather, menthol and something like old grease or turpentine in the background, giving this a much older charm.
Mouth: a thick texture, with olive oil and bigger sooty notes than the nose suggested. A really warm smokiness that takes you back to bonfires and coal. Burnt herbs and pine needles, leading to sweet herbs and subtle aspirin. Underneath there is a sweet citrusy theme (lime) with a subtle tropical edge. Very enjoyable, with high complexity.
Finish: long, back to medicinal notes, alongside lemons, dark chocolate and lightly yeasty smoke.
For me Ardmore is at its best when the lactic side is under control and the thick fruitiness comes out. This high class WhiskyNerds bottling is a prime example of what I mean. It just arrived at different shops accross Holland for around € 300.
Ardmore 22 yo 1997 (48,7%, The Whisky Agency for Animal Spirits 2019, hogshead, 70 btl.)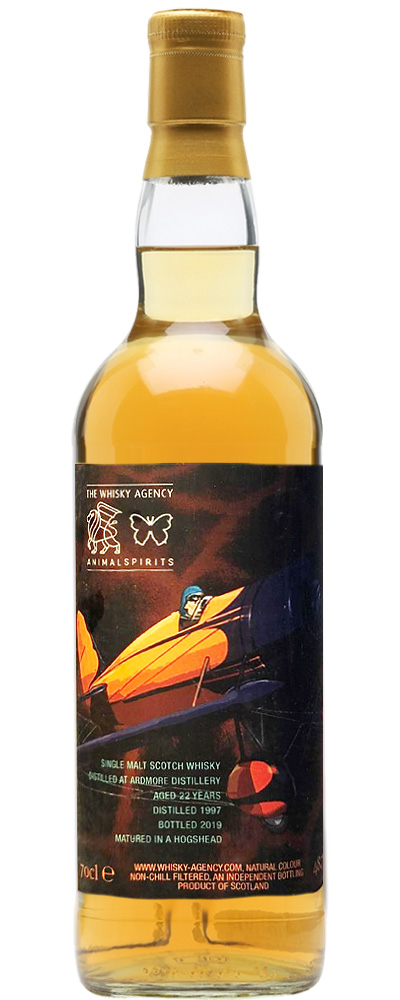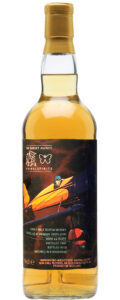 Nose: the old, greasy garage smell is bigger here. A lot of sunflower oil and oil paint, leaning towards salted butter. More unique than the WhiskyNerds bottling perhaps, but also less complex. The green lemons, apples and limes appear later, together with some freshly cut branches. Then the chalky side builds up, bringing out a whiff of vegetable stock as well. Smoke is really anecdotal here, it's rather more on the mineral side.
Mouth: nicely oily again, with peaches and plenty of sweet citrus notes. Hints of warm dough and chalk, with some pomelos and grassy smoke. Then it gets warmer and darker, with more sooty notes, chocolate mints and echoes of Talisker pepper.
Finish: long, very coastal, with grassy smoke and a pinch of salt.
While both whiskies are clearly from the same family, they show significant differences. This version is less complex, with slightly more soot but less fruits that come out. In conclusion, polished by time, Ardmore can be excellent. These bottles are long gone, but they have other collaborations that are still available. Score: 89/100