Still no shortage of 1990s Ben Nevis whisky, or so it seems, although I regularly hear complaints from bottlers that they're getting too expensive. Well, that is the case for almost any distillery really. The good news is that casks still show up.
At this point I'm convinced 1996 is the best vintage. Just so you know, the best ones have tropical fruits and mineral notes in perfect harmony.
Ben Nevis 25 yo 1996 (45%, The Taste of Whisky 'Pin-up girls' 2022, hogshead #1439, 111 btl.)
Nose: quintessential quality. A lot of warming waxy notes and chalk, with hay and leafy touches. Then bergamot, mint leaves, bananas, mango, pears and apricots. Hints of pollen and mead. Wilfdlowers. Subtle marzipan in the background. A nice exotic cocktail with the waxiness of an old Speysider.
Mouth: more fruit salad. Pineapple, pink grapefruit, mango and maracujas. Irish pleasures. Many (floral) honeys, hints of white pepper, some coastal notes, green apple and leafy touches. Really, really good. Oh, I forgot to mention the mineral / waxy side.
Finish: medium long, chalky and peppery, with green fruits and mineral notes.
We already knew that this #14xx series contains some wonderful casks. This is one of these fruit-forward Ben Nevis releases that are effortlessly convincing. Great whisky! Sold out, I believe.
Ben Nevis 22 yo 1998 (47,4%, The Whisky Blues & The Alcohol Bar 2021, hogshead #1574, 237 btl.)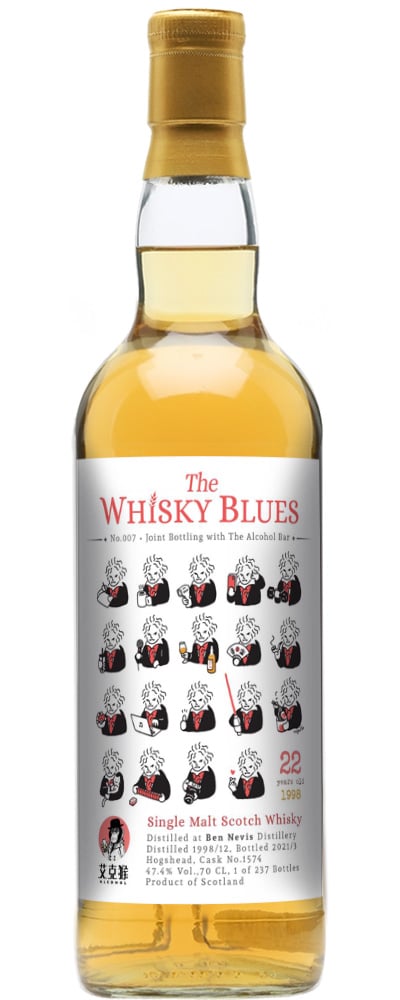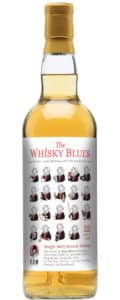 Nose: a lot dirtier. Plenty of rubber, as well as a soaked porridge, yeast and mouldy cellar. Getting brighter after a while, with some kaffir leaves and ginger, wet chalk and herbs. Never these tropical fruits – this is simply the other side of Ben Nevis spirit.
Mouth: still on chalky notes with lemon leaves, white pepper and ginger. Some horseradish heat and plain barley. Then leathery notes, mash and grapefruit. Hints of brine and grass. Some fruits in the background (unripe pear) but very different from the TTOW release.
Finish: quite long, still rather austere. Zesty lemon and ginger.
While perfectly normal for this distillery, it's a type of Ben Nevis doesn't convince me. It is yeasty and austere, totally charismatic but less enjoyable. In a session with fruity ones, this is a bit of an outsider. Sold out anyway. Score: 83/100
Ben Nevis 26 yo 1997 (49,7%, East Village Whisky Company 2023, refill sherry butt #143, 490 btl.)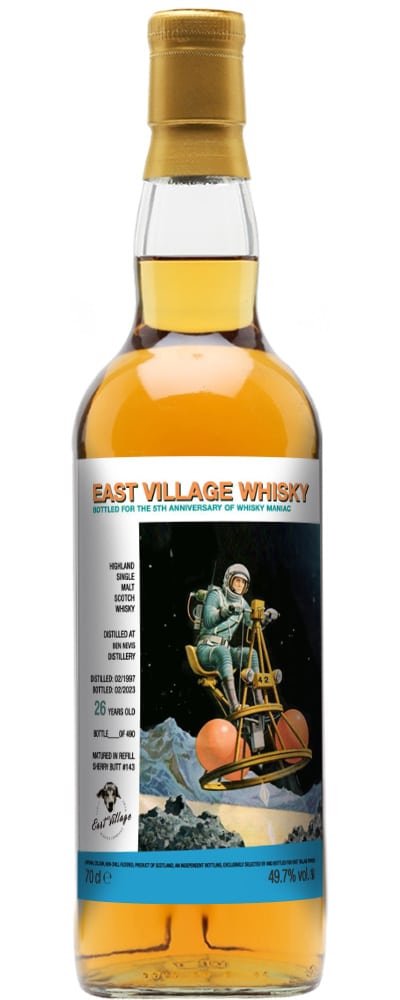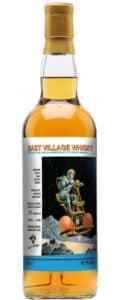 Nose: subtle whiffs of vanilla yoghurt at first. More weighty due to the sherry influence. Earthy notes, a nice leafy dustiness, light tobacco notes, walnuts and hints of orange peels. Yellow plums and apples after a while. Whiffs of butter caramel, almonds and leather. Greasy car parts in the distance. Needs time, but quite rich.
Mouth: a warming (dried) fruitiness. Apricots, plums, with a sour orange note and marmalade adding freshness. Then pepper, aniseed and ginger, as well as some caramelized hazelnut. Light umami touches (nutmeg) with mustard and drying tobacco. A subtle winey side too.
Finish: long, slightly drying, on wood spice, dried ginger and a hint of bitter chocolate.
This is quite a complex cask that needs time to unfold itself. Much harder to pin down than some other Ben Nevis expressions, but that makes it interesting. Nicely integrated sherry in any case, rather Fino than Oloroso in my opinion. Exclusive to Whisky-Maniac. Score: 90/100
Ben Nevis 23 yo 1998 (54,1%, Nanyang Whisky & Rejo 'Peninsula Collection' 2022, hogshead #662, 207 btl.)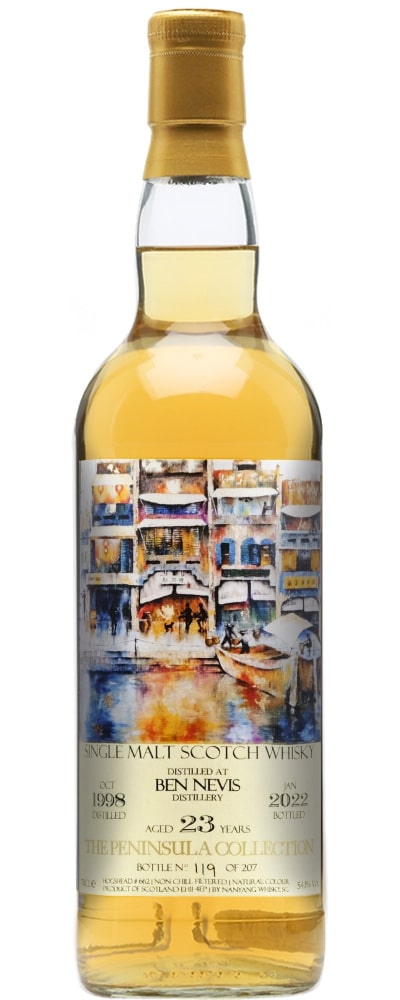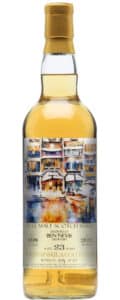 Nose: half fruity, half mineral. Some pineapple, peach and lime, as well as tangerines. Then chalky notes, wet wool, light almondy notes. Gravel and leather. Light candle wax. Nice enough, and it predicts a fruity palate.
Mouth: bingo, a really good one again. Very waxy, with beeswax and candles, alongside almond cream and a greasy quality. This pairs nicely to peaches, grapefruits, guava and lime. Bananas too. Then a light hint of white pepper and a some bitter orange.
Finish: long, lemony and chalky, with a gritty element.
Despite the bitter edge on the palate, this is a lovely Ben Nevis. Plenty of tropical fruits, waxy notes and simply high complexity. Great whisky. Score: 90/100
Ben Nevis 26 yo 1996 (54,9%, Sansibar Whisky for Whisky-Maniac.de 2022, hogshead #1595, 216 btl.)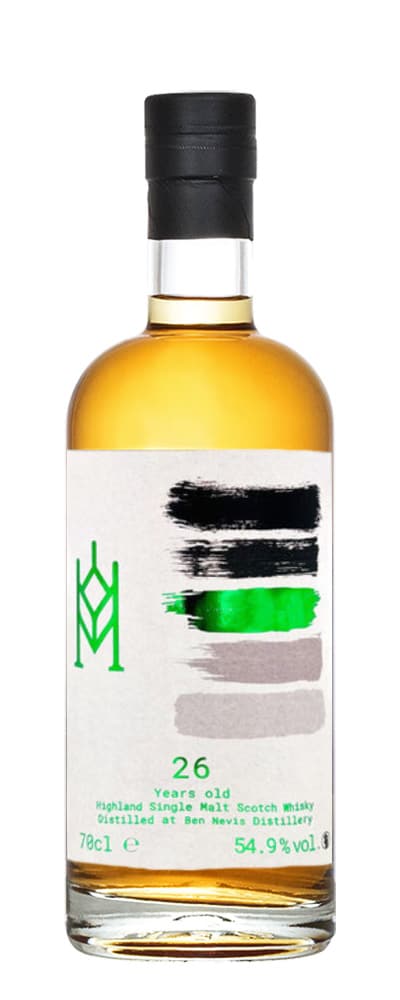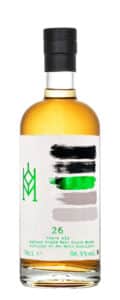 Nose: a slightly warmer fruitiness now, with honey, pollen and beeswax alongside apricot (jam), white grape, pink grapefruit and guava. More jammy than the others – this reminds us of a great 1970s Speysidern or a 1980s Bushmills. Perhaps a little more vanilla too. The mineral side is more subdued. Some grapefruit and candied ginger in the background.
Mouth: more jammy fruits at first. Apricot jam and mirabelles, tangerines and a hint of mango. Then yellow flowers, citrus peels, grapefruits and a hint of oak polish. Quite oily and waxy again. Just a light greener and slightly medicinal edge towards the end.
Finish: long, on juicy fruit salad with citrus peels, mineral notes and mild oak spice.
Quite impressive, this is already one of the best 1990s Ben Nevis releases in my book. After #14xx we can now confirm #15xx is equally great, and this particular cask is totally outstanding. Warmly recommended, get it while you can. Exclusive to Whisky-Maniac. Score: 92/100