No need to introduce Royal Mile Whiskies. This renowned retailer has shops in Edinburgh and Pitlochry (Drinkmonger). Established in 1991 they have steadily grown in reputation and range, with plenty of retailer awards. More importantly for us, they sorted out shipping accross the pond after Brexit, to many countries.
They are occasionally offering exclusive releases, seeking high quality and good value. We already reviewed two official bottlings for them in the past (Glenallachie 2006 and Caol Ila 2012 Thompson Bros).
Today we're looking at two recent bottlings under the Royal Mile Whiskies title: Bunnahabhain 1999 and Highland Park 1997.
Bunnahabhain 23 yo 1999 (43%, Royal Mile Whiskies 2023, hogshead #4099, 191 btl.)
Nose: a very fruity kind. Tinned peaches with sweeet grapefruit, lemongrass and juicy gooseberries. Green melons. Even whiffs of lime and lychee in the background. Then also a mentholy grassiness and a little sea air. Subtle whiffs of lamp oil too.
Mouth: tangerines and grapefruits are back, as well as lemon peel and orange oils. Nice bittersweet notes, with a mineral / resinous touch. Mint tea, a little grass again, as well as a light 'muddy' note. Some barley sugar and vanilla comes out while keeping a strong zesty element and a salt & lemon combo.
Finish: soft fruity notes keep going, with a hint of white pepper, resin and lemon zest.
I thought it would be fragile at just 43% but that's not the case. There's a nice and slightly unexpected fruitiness alongside the typical coastal notes. Good selection work. Still available from Royal Mile Whiskies.
Highland Park 25 yo 1997 (49,6%, Royal Mile Whiskies 2023, hogshead #5293, 303 btl.)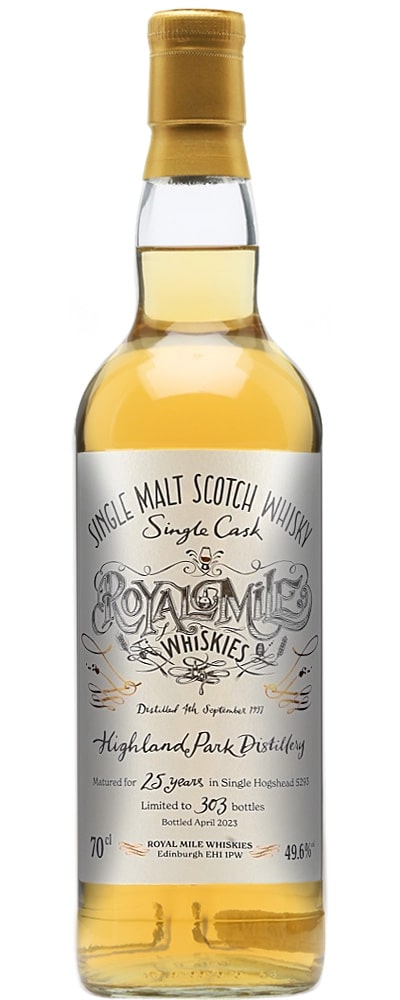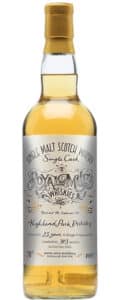 Nose: leafy notes are mixed with ashy smoke, walnuts and leather. Classic hints of heather too. Then a little wood char and yellow apples, alongside grainy notes. Subtle medicinal notes in the background (camphor mainly). Good, albeit with a sharpness to it.
Mouth: lemon peels go hand in hand with hazelnut and hints of mocha. Toffee notes and honey. Then back to drier notes of chalk, nutmeg and some peppery smoke. Grapefruit (peels) and peppermint. A slight acrid side as well.
Finish: long, rather tight, on lemons, subtle ashes and chalk.
Another good choice: this has heaps of character. It's not the easiest Highland Park due to the chalky, zesty sharpness, but it does offer complexity and fun. Also available from Royal Mile Whiskies. Score: 88/100