Some time ago we tried a Candlekitty whisky in the Equinox & Solstice series. The name refers to the symbol of a well-known distillery (a wild cat) and to the typical hint of candle wax that defines the spirit.
Today we're trying more of these undisclosed Clynelish releases. Candlekitty, Kittenish or simply Secret Highland whisky. Too many distilleries are anxiously hiding their name from 'unofficial' releases these days, an unnecessarily drastic measure to protect their brand equity, in my opinion.
Secret Highland 2010 (51,9%, Liquid Art 2020, bourbon cask, 174 btl.)
Nose: quite vegetal. Porridge, lemon peels, crushed chalk and hints of maize bread. The expected waxiness is there, but subtle, I'd say this is more mineral than waxy per se. Bread dough, limestone, hints of yeast and vegetal oils. Gooseberries and very light vanilla after a while.
Mouth: still quite vegetal, although a brighter and fruitier side appears. Lemons now evolve to oranges. More candlewax and just enough jelly beans to keep the overly austere notes at bay. Green peppercorns, rhubarb, hints of garden herbs and a pinch of salt.
Finish: medium long, chalky and peppery, with green fruits and mineral notes.
A modern style of Clynelish which feels much younger than the official Clynelish 14 Year Old. Quite austere at times but offering all the expected markers of a good Clynelish. Sold out.
Candlekitty 12 yo 2010 (57,1%, Whisky Sponge 2023, refill barrel, 260 btl.)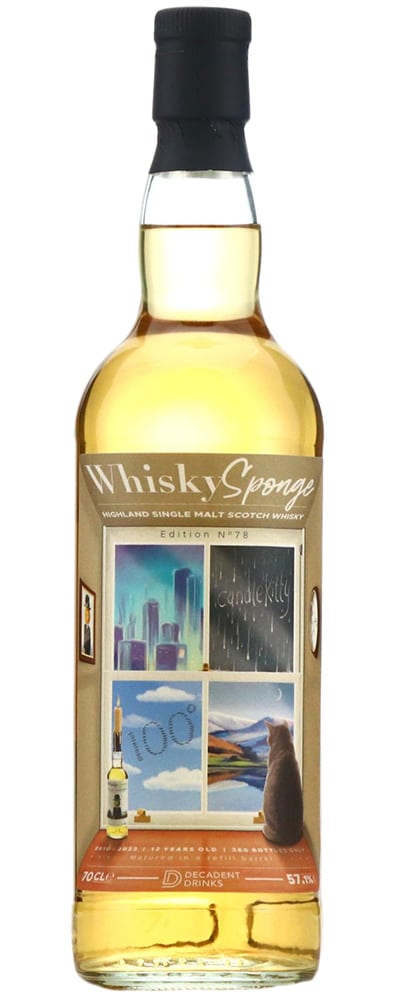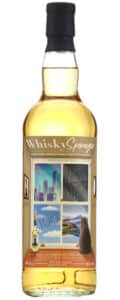 Nose: classic waxy notes (paraffin) with chalked walls and a hint of marshmallows. Pear, lemon and pineapple. Hints of grist as well, with gorse flower and wool. On the nose certainly rounder than the Liquid Art release, never too austere.
Mouth: a slightly sweeter style with lemon candy, dough, chalk and candlewax. Leaven bread, porridge and some green pepper. Then a big wave of minerals and slightly more austerity in the form of lemon / grapefruit zest and herbs with drops of cinchona.
Finish: medium length, still waxy, on green tea and mineral notes.
Even though this aged a bit longer, it is clearly the same batch of whisky. Good whisky that is, I'm just afraid that too little of these casks will be left untouched for the future. The only place I could find it was Whisky-Maniac. Score: 87/100
Blended Highland Malt 9 yo 2013 (55,6%, Thompson Bros 2022, refill hogshead, 327 btl.)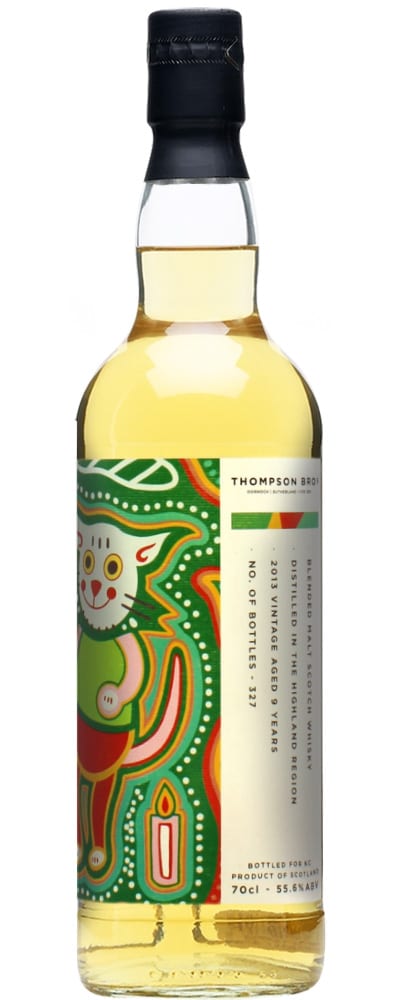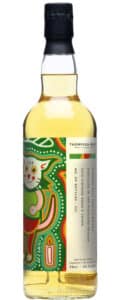 Nose: even fruitier (read: even less waxy). Lemon juice, lemon peels, limoncello, white grapes, maybe unripe banana. Then the waxy side starts to grow, mainly candlewax. Hints of dough, but less of the chalky notes that I got in the 2010 versions.
Mouth: rather narrow, almost a margarita or barley eau-de-vie with some lemon peels, subtle salty notes and a little pepper. Green garden fruits and mild pepper appear in the end. Light herbacious notes too, but less vegetal notes than the ones before.
Finish: medium long, lemony, waxy, gingery and spicy.
This has a lot going for it. It may be younger and slightly narrower than the other two, but I like its clean character and naked appearance. Pure distillate. Score: 88/100
Kittenish 25 yo 1996 (49,5%, The Whisky Blues + Whisky Land 2021, hogshead #7, 322 btl.)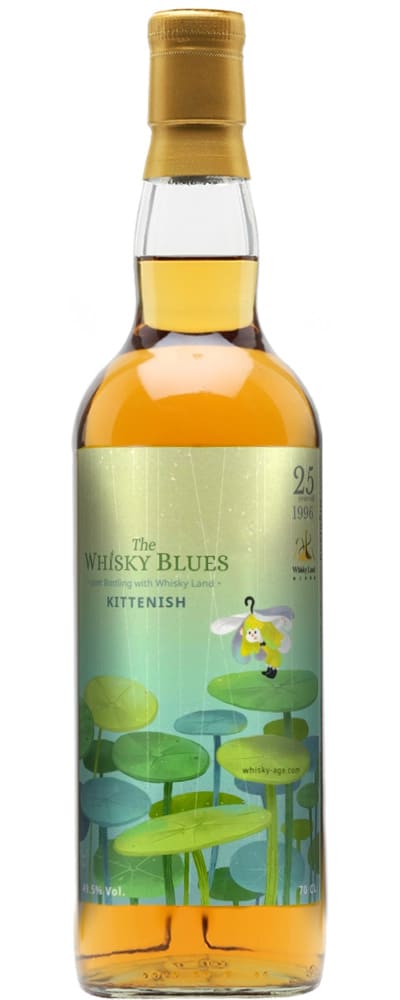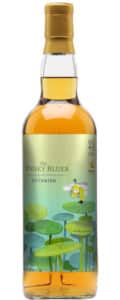 Nose: waxy and gravelly, with a totally different kind of oiliness than the ones before. Apples and apricots, hints of potpourri, as well as fragrant leather. Some tropical fruits appear in the background, as well as a buttery / creamy side. Honey and custard. Needs time to open up, but worth the wait.
Mouth: more syrupy fruits, buttery notes and beeswax. Sweet but also savoury, offering more leathery notes and hints of tobacco. Then also lime, chalk, vague tropical notes and a puff of smoke? Even something that reminds me of an old bottle effect. Not entirely classic, but very intresting.
Finish: long, on oranges, butter, wax and leafy / herbal notes.
Great Clynelish, even though it's slightly different from what I expected. The fruits, the leather, the buttery side… Overall very interesting. Sold out from Whisky AGE as far as I can tell. Score: 89/100
Kittenish 20 yo 2000 (55,2%, The Whisky Blues + Whisky Wave 2021, hogshead #1424, 324 btl.)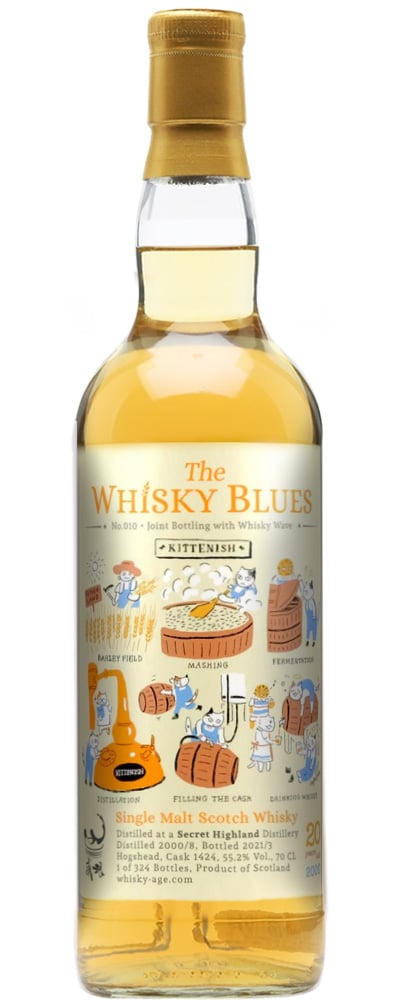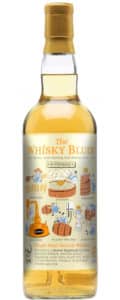 Nose: more modern again, this comes closer to a 2010 than to the 1996. Lemons, sour apples, unripe pears, grapefruit peels and hints of rhubarb. Nice waxy notes and plasticine. Then also light medicinal notes, leather and salty butter.
Mouth: green apples and pineapple now, with a nice sweet and sour balance. Hints of honey, cardamom and almond. Subtle salty notes. Then also bread and a greener type of fruitiness.
Finish: quite long, with green fruits, butter and some woody notes.
Good whisky again, I really like the tart fruits of this one. On the other hand the waxiness is slightly more subdued. Overall I can't help but wanting something extra, but as much as I like Clynelish, that's a common thread in this session. Score: 89/100